Adirondack Chairs Combine Classic Styling And Fall Asleep Comfort
Adirondack chairs may be the perfect
Adirondack chairs may be the perfect chairs for your garden or patio.  These chairs go great with nearly any other outdoor furniture style, while maximizing coziness.  Style and comfort are what matter in a chair, and these chairs deliver both.
What Are Adirondack Chairs?
In the early 1900's, a man named Thomas Lee was seeking a design for a comfortable outdoor chair design for his family home.  Using his family members as "testers", he cut and nailed pieces together until the design seemed right.  Mr. Lee lived in the town of Westport, in upstate New York.  This little town sits near the shores of Lake Champlain, near the Adirondack Mountains.  The first chairs of this style were called Westport chairs, named after the town.  Later they became know as Adirondack chairs, and became popular at the numerous resorts in the area.

Unfortunately for Mr. Lee, he didn't get the benefit from his popular design.  He hired a local carpenter to help him make the chair he designed.  The carpenter then patented the design (without Mr. Lee's knowledge or permission) and proceeded to make a handsome living.
Regardless of the "politics" surrounding the design, these are deep seated, wide chairs with wide arm rests.  The design has been expanded to include benches, rockers, and other pieces.  But it all started in Westport, NY over 100 years ago.
There are numerous variations of the basic design, but in general they all keep the theme of a wide, low, rear-leaning seat with a high back and wide arm rests.  The real differences are in three basic areas;
1 - What is it made of?  
2 - How much maintenance is required?  
3 - How much does it cost?
These three considerations are tied closely together.  The material used determines the maintenance required and greatly affects the cost.  Still, let's look at them individually.
Materials
There are essentially two materials used to build Adirondack chairs - wood and plastic (resin).  There are several species of wood commonly used for chair construction, so let's discuss those first.
Wooden Adirondack Chairs
Pine is the most common and the least expensive wood used for chairs, just as it is in the deck building world.  Treated pine, if properly maintained, can last 15 years or more.  It can be stained or painted to suit your taste.  Cedar and cypress are other soft woods, but they have more natural resistance to decay and insects than pine.  They too can be stained or painted to match your decor.  Any of these woods can be a great choice for your chairs.  They are durable, only require modest maintenance, and are relatively inexpensive.

Teak is an excellent choice for any outdoor furniture.  It is extremely long lasting, even without regular maintenance.  You can work to keep it looking new, or you can simply leave it alone and allow it to weather to it's natural and beautiful silvery finish.  Teak is naturally resistant to insects and rot.  You'll pay more for teak, but many people believe it is well worth the cost.  You can also find Adirondack chairs made of mahogany, although they are not as common as the other styles.  Mahogany is a beautiful and durable wood, but you will pay a premium for it.
For much more detail about the characteristics of these woods and other materials, see my page about materials.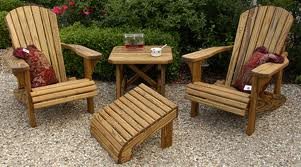 Plastic Adirondeck Chairs
Most plastic or resin chairs are significantly less expensive than their wooden counterparts.  If your budget is the primary factor determining your choice, this may be the answer for you.  You will also benefit from almost no maintenance requirements - an occasional rinsing with a garden hose usually suffices.  At worst you may need to scrub it with soap and water once a year.  You may experience color fading over time if your chairs are left in the sun.  Of course, the same is true of their more expensive wooden counterparts.  While painting a plastic chair is usually not a good idea, they are available in a multitude of colors.  So you should be able to find the right color or combination of colors to suit you.

Options
If you want to "accessorize" your Adirondack chairs, there are plenty of ways to do it.  You can find reclining models as well as folding models.  Adirondack rockers are also available, even two seat rockers.  Matching footrests are available, including some models that have a pull out ottoman so it isn't in your way when you aren't using it.  The ottoman just slides back into a slot under the chair seat.  Pretty cool!  Add matching side tables and you can decorate your deck or patio completely in the Adirondack style.  While these chairs are quite comfortable, if you want to add cushions, you can get them to fit the Adirondack style.

So decide which material suits your needs and add Adirondack chairs to your outdoor furniture.  Once your guests are seated comfortably, you can dazzle them with your knowledge of the origin of these classic American chairs.  Okay, maybe dazzle isn't the right word.
---
Go to Materials
---
---
---
---
Go Home from Adirondack Chairs
---
Backyard Design Ideas - Proudly serving the Lake Norman area of Central North Carolina including the following towns and counties; Mooresville, Troutman, Charlotte, Statesville, Mt. Ulla, Mt. Mourne, Davidson, Huntersville, Denver, Iredell County, Mecklenburg County, Lincoln County, Cabarrus County, Catawba County, Rowan County. Call us today for a free estimate. 980-722-7370.
---