A Big Green Egg Table Makes Outdoor Cooking A Breeze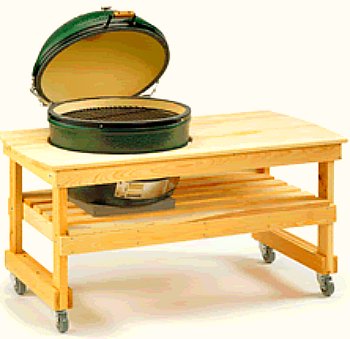 Why Would I want A Big Green Egg Table?
You need a Big Green Egg table because you need a place to put your Big Green Egg ceramic grill.  Or maybe you're thinking about getting one.  The Big Green Egg is a fantastic cooker, and you'll love using it for many years.  But because of it's unique design, it does have some special quirks.  First of all, it's shaped like...well, an egg.  So it doesn't stand alone very securely.  And these things are quite heavy, so moving it around isn't an easy task.  You can buy a "nest" for your egg at the store where you buy the egg.  The "nest" is designed to hold the grill upright, and can have small wing-like tables attached to the sides.  While a lot better than nothing, these leave a lot to be desired.  A well designed table can solve all of those issues and more.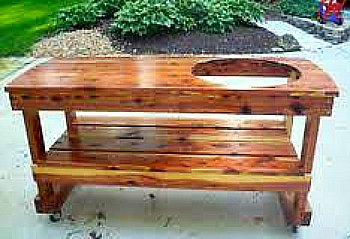 Where Can I Get A Big Green Egg Table?
You can buy a Big Green Egg Table at most stores where the Eggs are sold.  Before you buy, be sure to check the quality carefully.  While many are probably well made, the forums have plenty of complaints about the poor quality of tables bought at the store.  Look for screws rather than nails.  Make sure the table is sturdy and well finished.  You may find a stainless steel table, although you can expect to spend a good bit more money than you would for a wooden table.  There are also many online options for those wanting to purchase a table.  Again, check the reviews before ordering to be sure the quality is high.  You can also buy a Big Green Egg Table or Cart made from marine grade polymer.  Werever Products, Inc. makes several models, but be prepared to spend a few bucks.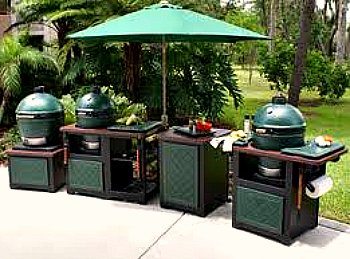 Can I Build my Own Big Green Egg Table?
If you have some basic carpentry skills, you can find Big Green Egg Table design plans at the Big Green Egg website.  You can always use these plans and adjust them for your own use.  If you want a bigger table than the design calls for, just use longer wood.  The size of the hole, and the distance from the upper surface to the lower shelf need to be consistent, but the length and width of the table surface can be entirely up to you.  Or you can design your own.

Choose your wood carefully if you're going to build your own table.  Avoid using treated wood (usually pine) for the work surface of your table.  The chemicals used for treating wood are not recommended for human consumption.  If you want to build the rest of the table from treated wood, that is fine.  But for appearance's sake, you'll probably want to use the same wood for the entire project.  Cypress, redwood, ipe, and others are good for table construction.  Read this article for more information about these woods and other materials.  
My favorite table style is a wooden frame with a granite work surface.  Granite is impervious to weather and is very durable.  It is also a great surface for food preparation and is easy to clean.  You'll probably need to have it cut to size by a granite fabricator.  Make sure you have the correct size for the cutout hole - you can't patch granite if you get it wrong.  Use the piece cut out for the hole to serve as a base for your grill.  Tile is another work surface option for your table.  While tile makes a beautiful surface, the grout joints can create a cleaning issue.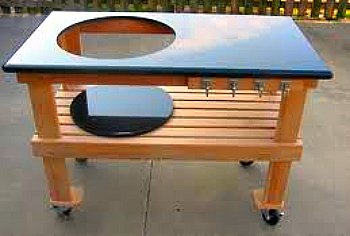 Options
Finish off your table with caster wheels.  The Egg is heavy, but wheels make easy work of moving it.  Larger wheels are easier to move on rough surfaces, like a deck with gaps between the boards.  Wheel locks will help keep the table securely in place where you want it.
Add hooks for hanging utensils as needed.  A paper towel holder will be another handy addition to your table.  How about a bottle opener?  Maybe a hole cut in a corner for a patio umbrella?  Some folks add electrical capability to their Big Green Egg Table.  An adjustable light is a great help for nighttime cooking.  Will you need a place to plug in an electric knife for meat carving?  Just a simple outdoor receptacle - powered by a drop cord - can add lots of convenience with little cost.  Customize your table however you want.  And happy cooking!
---
Go to Outdoor Kitchens
---
---
---
---
---
Go Home from Big Green Egg Table
---
Backyard Design Ideas - Proudly serving the Lake Norman area of Central North Carolina including the following towns and counties; Mooresville, Troutman, Charlotte, Statesville, Mt. Ulla, Mt. Mourne, Davidson, Huntersville, Denver, Iredell County, Mecklenburg County, Lincoln County, Cabarrus County, Catawba County, Rowan County. Call us today for a free estimate. 980-722-7370.