Choose the Best Deck Post to Complete Your Backyard Deck Design
Combine Materials to Create Interest
While there are not that many different ways to make a deck post, the relatively few styles can create a dramatically different look and feel.  By far the most common style is a treated 4 x 4 wooden post.  And with good reason.  No other product matches the versatility of this old standard.  But just because you use a standard post, that doesn't mean you have to use a standard wooden deck railing system.  There's nothing wrong with a 2 x 4 and 2 x 2 railing system between wooden posts, but don't limit your options.  Aluminum deck railing looks great between wooden posts.  So does vinyl deck railing. In fact, most vinyl railing is designed to fit over a 4 x 4 post anyway, but consider leaving the vinyl sleeve off of the post.  The contrast offers an interesting, distinctive look.  For a bold, dramatic look, use a 6 x 6 deck post instead of the standard 4 x 4.  It works the same way, but looks very different.  It's surprising how much impact that extra two inches provides.  The down side of using a 6 x 6 is that it makes the rest of your railing system look smaller in comparison.  But I still think it creates a great look.  Regardless of the size of the deck post, try not to exceed a span of 9 feet between them.  If you are spanning an existing distance, you may need to go slightly longer, but keep it as close to 8 feet or less where possible.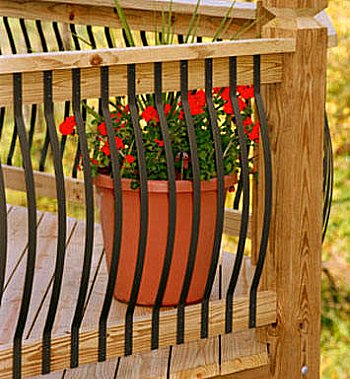 A Deck Post Doesn't Have to Be Wooden - Check It Out
Wood isn't the only material used for deck posts, although it is the most common.  Nearly every deck railing design has a matching post. Aluminum, composite, vinyl...they all have matching posts - and they look great.  But the contrast of wood with these various materials adds a nice touch as well.  Cable or rod railing systems are typically paired with wood posts.  Glass or acrylic railing can also be installed in a wooden frame system although they usually have a system designed to complement them.  Regardless of the material you use for your posts, they will have to be securely attached to your deck. After all, the most important purpose of a post and rail system is to keep people from falling off the deck. Some ready made posts are designed to be attached directly to the deck floor.  While this may be an acceptable method, it usually does not provide the lateral stability of a design that extends the posts below deck level.  Wooden and composite posts are bolted or screwed to the rim board of the deck.  They can be installed by bolting them to the outside or the inside of the rim board.  If you choose the inside method, the deck boards will need to be notched around the posts, and some additional blocking should be added around the portion under the deck boards to discourage twisting and to add stability.  Either method is fine but they each have disadvantages. If you install your posts inside the rim board you will lose some of your deck space.  The width of the post plus the width of the rim board will be lost to your deck railing system.  If using a 4 x 4 that will be about five and a half inches, for a 6 x 6 make it seven and a half inches.  That may not sound like a lot, but it can result in the loss of 25 to 30 square feet of usable space on a typical deck.  However, this method provides a cleaner look from the outside of the deck.  If you place your posts on the outside of the rim board you will be able to see that portion of the post below the deck boards.  With the interior mount method there will be a continuous band board with no visible posts bolted to it.  So decide whether the lost deck space or the clean look from the outside is more important and choose you post installation accordingly.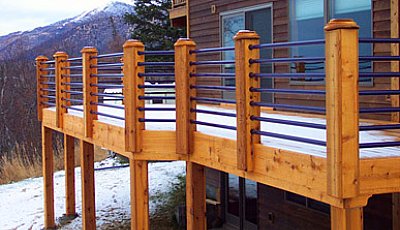 With pre-made deck posts, like aluminum, vinyl or wrought iron, select whatever decorative style you like.  With wood you have the option of a custom touch.  The tops of the posts can be cut at angles to provide some interest.  You can cut the posts so that the top rail goes over the top of the post and is continuous all around the deck.  My favorite way of finishing off a wooden deck post is to install a post cap on them.  There are many styles and materials available so you should be able to find one that suits you taste.  Some are even lighted and can enhance your deck in that way as well.  Deck post caps are discussed on a separate page.
---
Go to Deck Railing
---
---
Go to Backyard Water Fountains
---
---
---
---
---
---
Backyard Design Ideas - Proudly serving the Lake Norman area of Central North Carolina including the following towns and counties; Mooresville, Troutman, Charlotte, Statesville, Mt. Ulla, Mt. Mourne, Davidson, Huntersville, Denver, Iredell County, Mecklenburg County, Lincoln County, Cabarrus County, Catawba County, Rowan County. Call us today for a free estimate. 980-722-7370.
---