Your Grill is the Center Piece of Your Outdoor Kitchen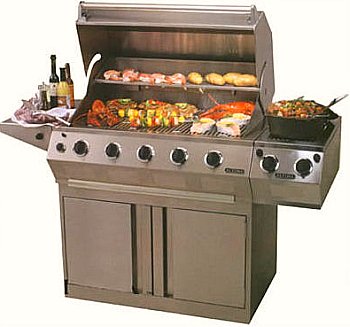 Get This Part Right!
Your grill will be the heart of your outdoor kitchen.  Everything else is just an accessory to maximize its use.  Give careful consideration to this decision, then build the rest of your kitchen around it.  This is one decision that will impact your budget in a serious way.  You can spend from a few hundred dollars to ten thousand dollars.  Here, we are discussing grills that are the center of an outdoor kitchen, not the smaller stand alone models.  However, many of the same issues apply whether your adding a simple model for your deck or your planning a one hundred thousand dollar outdoor kitchen.  Don't spend more than you can afford, but buy as much grill as your budget allows.  This isn't the place to skimp.  Read through this article to determine what your needs are, and buy the best model you can afford that meets those criteria.  And what the things to be considered?  Read on!
There are some generic considerations that are applicable to most models and we will identify them first.  Stainless steel is the best material for construction, but all stainless steel is not the same.  Make sure your choice is made of 300 series steel, not 400 (304 is common).  Cheaper steel will eventually stain and rust.  Powder coated steel or aluminum will not last as long and will eventually cost you more money.  How big should your cooking surface be?  Well, bigger is better.  The more space you have, the more options you have.  If you have enough room, you can cook steaks, chicken, and ribs - all at the same time; each with the correct temperature and for the proper length of time.  You will also have the option of using indirect heat to slow cook when appropriate.  It can be quite frustrating to cook in shifts, and to have one meat getting cold while you wait for another to finish cooking.
There are some really cool accessories available for a variety of outdoor cooking needs.  A motorized rotisserie is great if you want to slow roast a few whole chickens.  But if you only cook steaks and burgers, its a waste of your money.  Flat top cooking surfaces are gaining in popularity.  They are great for pancakes and eggs, and can come in handy for grilled veggies.  But they are no use for pork chops and ribs.  Just think about your cooking and eating habits and decide if you needs these options.  If not, don't spend the money on them.  Take that money and upgrade your grill!  Or, you can put it in an envelope and mail it to me!  Check out my recommendation for the best gas grill for under $1000 to help you make your decision.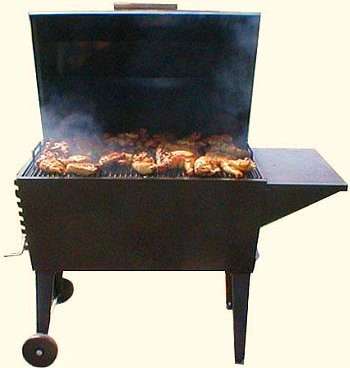 Gas vs Charcoal.  Which is Better?
The answer to that question is up to you.   Which option is better depends on what is important to you, and on how you cook.  Essentially it comes down to taste and convenience.  There are passionate supporters of both methods, and it's not likely anything I say will change their minds.  Let's look at the list of considerations.

Taste
One side of this debate is completely convinced of the wonderfully distinctive flavor of food cooked over charcoal.  On the other hand, a blind taste test revealed that people could not tell the difference between hamburgers cooked over gas or charcoal.  They were able to detect a difference in the taste of steaks, however.  Keep in mind that all charcoal is not equal.  The two basics types of charcoal are lump and briquette.  Briquette charcoal is the most common and can be bought in any grocery store.  It is made of wood by-products combined with additives that make it burn more consistently.  Lump charcoal is the preferred product for charcoal purists.  It is made by burning wood in the absence of oxygen.  No additives, no chemical smell or taste.  A charcoal chimney is the best way to light any charcoal without the need for lighter fluid (and it's smell / taste).  If pure taste is your goal, real hardwood fire produces the best smokey flavor, but lacks convenience.
Convenience
Gas is without a doubt more convenient than charcoal.  It lights instantly, often with the push of a button.  There is little or no mess, easy clean up, and no ashes to dispose of.  Gas heats up quicker.  Gas wins the convenience battle - hands down.
Cost
Gas units are generally more expensive than charcoal models.  Size and features can cause some overlap, but there is usually a significantly higher cost up front for gas.  However, charcoal is far more expensive than gas as a fuel.  Gas may cost 25 cents for a typical cookout, while charcoal can easily cost 3 to 5 dollars.  At that rate it won't be long before the charcoal method costs you more.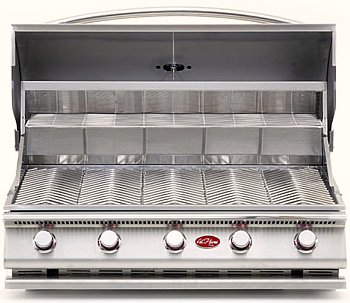 Built in or Portable?
Would a built in model be best for your needs or would you be better suited with a portable option?  If your objective is to have a high end outdoor kitchen, you'll need a built in grill to fit your cabinets and countertop.  See my article on the best built-in grill to help with that decision.  If you aren't going to that extent, there are excellent portable models that can be incorporated into a less pricey arrangement.  There is no need to give up your high end taste just because you like portability.  Cart models can still top $6000.  Of course, you can still get a nice unit for under $1000, and in general, they are less expensive than their built in counterparts.  A popular in between option is a free standing BBQ island.  They come "pre loaded" with a variety of options and price tags.  This is sort of a hybrid outdoor kitchen - more than just a grill, but not a full blown high end kitchen.   Cost wise, they are a very efficient way to have a great package.

Other Grill Options
An interesting option is the Big Green Egg family of cookers.  They offer a complete set of carts and tables dedicated to accommodate their unusual shape.  These are high quality cookers and are  worthy of serious consideration.

While gas and charcoal top the list, they are certainly not the only options.  
Electric models offer the ultimate in convenience - although there is little of the outdoor flavor of the cooking.  
A relative newcomer to the outdoor cooking scene - infrared models are gaining in popularity.  The technology is similar to your microwave, but not entirely.  Infrared cooks very evenly and produces very moist cuts of meat.  There is very little loss of the natural juices and flavor during the cooking process, and clean up is almost non existent.  
Smokers probably provide the most woodsy, smokey taste of any option.  They cook very slowly, over a period of hours, making any meat including fish, extra flavorful.  While probably not the best choice for your primary cooking option, they make an excellent addition for those times when you have time to do it the slow way.
Pellet grills have developed a strong and growing number of supporters.  It can be used to grill, roast, and smoke.  The name comes from the fuel - a wood "pellet" about an inch long.  The pellet is fed into the burning box where it burns quickly and cleanly.  The quick burning means these models have the convenience of gas's warm up time, but also deliver a powerful smokey flavoring to your meats and vegetables.  These units are priced between most comparable charcoal and gas models.  Be sure the pellets are available in your area before buying one.  This can be a terrific blend of taste and convenience, and is well worth a look!
---
Go to Best Grill under $1000
---
---
---
Go to Backyard Water Fountains
---
---
---
---
---
---
---
---
---
---
---
---
---
---
---
---
Backyard Design Ideas - Proudly serving the Lake Norman area of Central North Carolina including the following towns and counties; Mooresville, Troutman, Charlotte, Statesville, Mt. Ulla, Mt. Mourne, Davidson, Huntersville, Denver, Iredell County, Mecklenburg County, Lincoln County, Cabarrus County, Catawba County, Rowan County. Call us today for a free estimate. 980-722-7370.
---