An Outdoor Ice Maker Keeps Things Cool Year Round
Adding an outdoor ice maker to your backyard design may be just the touch you need to complete the package.  You can cook on your built in grill.  You can store your meat and drinks in your outdoor refrigerator.  You can even watch the big game on your outdoor TV.  But if you have to run inside for ice, or lug a big cooler around, you're still not quite "outdoor independent".
There are basically two styles of ice makers suitable for most outdoor applications.  There are small portable models and larger more permanent models, either free standing or under cabinet styles.  Each has its pros and cons, discussed below.
Portable Outdoor Ice Makers
Portable models have the advantage of being, well...portable!  So you can use it for indoor gatherings just as easily as outdoors.  That is if you can handle the weight, sometimes around 50 pounds.  Wherever you use it, just plug it in, add water, and presto!  Ice cubes in as little as seven minutes.  The down side is that they have a much smaller capacity, both in storage capacity and in ice made per day.  The average model holds 2 to 3 pounds of ice.  For some perspective, the bag of ice you buy at the convenience store usually weighs 8 or 10 pounds.  But you can replenish the ice quickly, so depending on the size of your gatherings you may have plenty of ice.  Prices range from $200 to around $500 depending on size and features.

Larger Ice Makers
Most of the larger size outdoor ice makers are suitable for either under counter installation or free standing use.  Most are made of 304 series stainless steel and many are available in white, black or stainless steel finishes.  The majority of these models are 15 inches wide, but if you are planning an under counter installation be sure that your ice maker fits your opening, or vice versa.

The medium sized outdoor ice makers produce from about 12 to 44 pounds of ice per day, and have a storage capacity of from around 12 to 20 pounds of ice.  Prices for these units range from $700 to $1200.  Larger sized models can make from 55 to 65 pounds of ice per day and have storage space for from 26 to 35 pounds of ice.  Prices here range from $1400 to $2500.  Lots of models are available from $1000 to $1500.  The differences in price are mostly related to ice production capability and storage capacity.  So consider you needs based on the size of your gatherings and make your selection accordingly.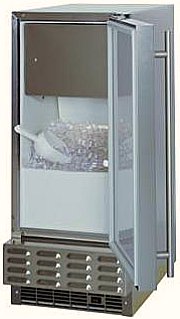 Options and Features
Ice is ice, but there are a few features you may want to consider before deciding on an outdoor ice maker.  Some models have variable settings for different sizes and shapes of ice cubes.  So if Uncle Lenny simply must have small square cubes in his diet cola, you can appease him.  Digital controls and automatic defrost options aren't required but they do add convenience.  Check to see if the door swing direction can be changed, particularly for under counter use.  Water filler kits are a convenient option and can be a requirement for some under counter installations.  Water drainage can be either gravity fed or pumped, depending on the model.  If you need to have drained water moved away from the immediate area, you'll need a pump.  There isn't usually that much water so if the area around you ice maker can handle a little water - gravity fed will be fine.  After all - this is outside. Finally, you may want to consider filtering your water to improve taste and clarity, particularly if you do that inside your house.

---
Go to Outdoor Refrigerators
---
---
---
---
Go Home from Outdoor Ice Maker
---
Backyard Design Ideas - Proudly serving the Lake Norman area of Central North Carolina including the following towns and counties; Mooresville, Troutman, Charlotte, Statesville, Mt. Ulla, Mt. Mourne, Davidson, Huntersville, Denver, Iredell County, Mecklenburg County, Lincoln County, Cabarrus County, Catawba County, Rowan County. Call us today for a free estimate. 980-722-7370.
---