Deck Lighting CanTransform Your Deck Into a Showplace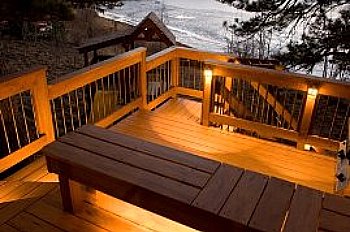 Deck lighting can have a dramatic impact on your backyard deck.  While enhancing the beauty of your deck you can also increase its usability.  Nighttime can become the best time to use your deck, particularly in the hot summer months.
Deck Lighting = Increased Safety
Illumination increases safety at night for everyone.  In the dark, steps are an obvious place for slips and stumbles that could lead to bumps and bruises or even serious injuries.  Keep in mind that as a homeowner, you have potential liability for injuries occurring on your property.  Sure, you can turn on bright flood lights or porch lights to overcome the darkness, but then the mood of a quiet relaxing time outside is spoiled.  Soft illumination equals problem solved.  Create enough soft light to move around safely without destroying the relaxed mood or that beautiful night sky.

Highlight steps, doorways, and other areas where foot traffic is likely and obstacles might be found.  The really cool thing about deck or patio lighting is that it not only provides increased safety, but it also makes your deck or patio look better at night - just like landscape lighting enhances the beauty of your home.  Most folks have the deck lighting on whether the deck is being used or not.  Just because it looks so nice!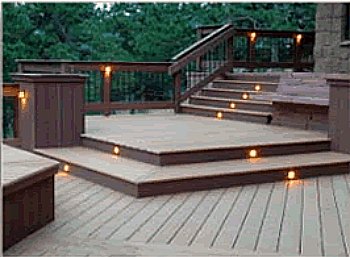 Light Up Those Steps
Deck lighting is available in several basic types, with each type having a wide variety of styles.  Since steps are obviously an area of safety concern, lights are specially made for that application.  You can either install lighting directly into the riser (the part that "rises" up between each step) or you can install lights on posts or under rails that illuminate the steps.  Either method works and looks great, so it's really a matter of which type offers the look you want.
Railing and Post Lights
Since steps aren't the only place you will want to illuminate, lights are available to install on the railing posts or under the railing itself.  Remember to install these lights in a way that you won't actually see the bulbs while sitting down.  That means keeping them low - closer to the deck floor.  You don't want your night vision impaired by looking directly at a bulb - even a low intensity bulb.  This sometimes creates an issue with lighting installed under the top rail.  If that light is shielded from direct view by the rail itself or by the design of the light, it should be fine.  If not, you may want to consider an alternate method.  Remember, you want it to be unseen while you are sitting.

Post Cap Lights
Another nice illumination option is lighted post caps.  There are many, many different styles.  Aluminum, stainless steel, plastic, copper...different shapes and colors - so you can find one to suit your taste and your budget.  Most are quite attractive and finish off a post nicely, even if they weren't lighted.  At night, they offer a high level of WOW factor.  Just keep in mind that they are mounted on top of the posts, so they will naturally be higher than any of the other methods.  If you ever lie back on your deck and stare at the stars (we all do that, don't we?) post cap lights may impair your night vision.  If using them, and you enjoy the night sky, strongly consider lights that you can control, rather than automatic on/off lights.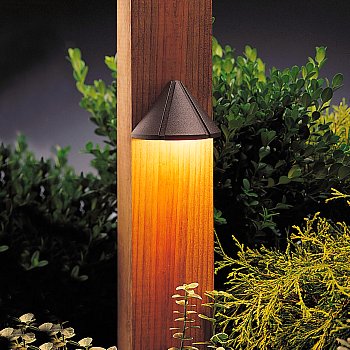 What about installation?
Most deck lights are fairly easy to install yourself.  The first consideration will be determining which type of power source your deck lighting system will use.  A system that uses a standard 120 volt household current should be installed by a qualified electrician.  Most systems are low voltage, so installation is much easier and safer for the do-it-yourselfer.  See the requirements by reading low voltage lighting.

However, there are still some low voltage applications that may be beyond the comfort level for self installers.  If you will be using post lights or especially post cap lights, the preferred method is to drill a hole into the center of the post to hide the wire.  Again, depending on your railing style, you may be able to hide the wiring in the railing and minimize drilling at the post cap or down the post (for post lights).  Just take some time to plan out where you will hide the wiring.  There is often a way to do it without major work, but sometimes there will need to be extensive drilling through the length of the posts.
Solar Deck Lighting
Solar deck lighting is another option.  The problem of how to hide the wiring is eliminated - there isn't any!  Installation is very easy.  The low light output often associated with solar lights isn't a problem, since that is what you want anyway.  Solar lighting may be an especially attractive option if you are considering deck post cap lighting, since that usually presents the greatest challenge to hiding wires.  The drawback to solar deck lighting is that you usually don't have the option to turn the lights off.  Almost all are automatically turned on via a photocell.  You may be able to find fixtures with an on / off option, or you may decide it really isn't a problem for you.
Rope Lighting
Rope lighting is another option for deck lighting.  It's easy to install and is relatively inexpensive.  It lacks the custom look of the individual fixtures, but if carefully installed, it can be a nice option.  Keep in mind the need to conceal the bulbs.  Depending on your deck railing style, you may be able to install rope lighting under the bottom rail.

Go to Outdoor Lighting
---
---
---
---
---
---
---
---
---
---
Go to Backyard Water Fountains
---
---
Backyard Design Ideas - Proudly serving the Lake Norman area of Central North Carolina including the following towns and counties; Mooresville, Troutman, Charlotte, Statesville, Mt. Ulla, Mt. Mourne, Davidson, Huntersville, Denver, Iredell County, Mecklenburg County, Lincoln County, Cabarrus County, Catawba County, Rowan County. Call us today for a free estimate. 980-722-7370.
---