Teak Deck Furniture Offers Long Lasting Beauty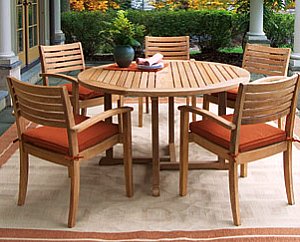 What is so special about teak deck furniture?
Teak deck furniture is highly prized as a high quality option for outdoor living.  What makes teak so special?  Teak is a dense, oily tropical hardwood that naturally resists rot, decay and insects.  It's density also means it resists splintering and cracking.  Properly kiln dried teak further resists warping and twisting.  It's natural properties make it ideal for outdoor use.  It can be left unprotected all year and it will remain virtually unaffected by sun, rain, snow, whatever.  We discuss some of these same properties in our section about deck building materials.  Teak is great for outdoor furniture for many of the same reasons it is such a good decking material.
Care and Maintenence
Teak deck furniture will be perfectly fine for many years if you do nothing at all.  There are some ways to further enhance its beauty and longevity.  Teak deck furniture begins it outdoor life in a beautiful golden brown color.  As it weathers, it turns an equally beautiful silvery gray color.  It can turn further to a darker gray or even a greenish color, but usually the silvery color stays.  If you like the weathered color - great, you don't need to do anything!  Some folks prefer the original honey brown color.  If that's you, you can buy cleaners to remove the silver color and return the wood to it's original color.  An application of teak oil every 3 to 6 months will keep the wood "unweathered" for longer periods between cleanings.  If the weathering is extreme, there may be light sanding required - but not usually.  Although not required, covering your furniture during the winter may prolong it's color and lessen the effects of weathering.  Many people think the wood's beauty is only enhanced by the weathering process, so don't feel you have to fight against it.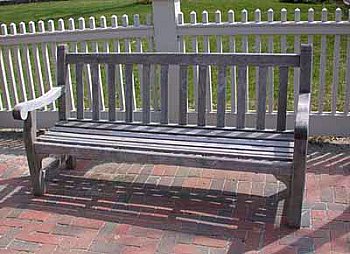 Cost.  It Ain't Cheap.
Let's just go ahead and say it.  Teak deck furniture is expensive.  There - now that we have acknowledged that, let's look at it a little closer.  Is it smarter to spend $500 on something that needs to be replaced every few years (while the price goes up each time) or to spend $2000 on something that lasts for 30 years or more with little upkeep?  In the long run, teak may actually cost less than many of it's "cheaper" competitors.  Now, just like everything else, that doesn't matter if teak is outside of your current budget.  Its not wise to spend money you can't afford to spend, even if it is on a good product.  Okay, enough economics 101.  This site isn't about helping you spend money wisely.  Just be aware that I realize we can't always afford to do what we would like to do, and we may have to settle for less.  But if you can afford teak patio furniture, you aren't likely to regret it.

You can easily spend over $5000 for a large high end teak table with eight chairs.  A mid sized table with four chairs can be close to $2500, and a small bistro style table with two chairs can be in the $1200 range.  There, the "negatives" are out of the way.  Upfront expense, maybe a little "ouch!" factor - that's about it.  Everything else about teak deck furniture is a positive.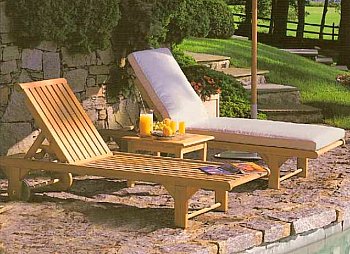 Unlimited Options
Teak patio furniture is certainly not limited to tables and chairs.  Almost everything made in the way of outdoor furniture is available in teak.  Benches, storage boxes, planters, serving carts...you name it, it's available.  Some very attractive outdoor furniture is constructed of a combination of aluminum and teak.  Again, the available pieces are almost limitless.  Teak loungers are very popular additions to any deck or patio.  While generally quite comfortable, if the hard wood surface doesn't suit you or your back side, outdoor furniture cushions are available for almost all chairs and benches.  You can even buy a complete outdoor covered bar station made of teak.

Give teak deck furniture a serious look when deciding what's best for your outdoor living area.  It's upfront cost becomes less of an issue when considered against it's low maintenance costs and long life expectancy.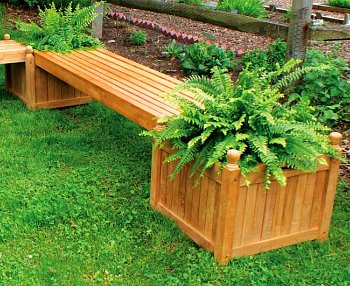 ---
Go to Wrought Iron Furniture
---
---
Go to Patio Furniture Cushions
---
---
---
---
---
---
---
---
Go to Backyard Water Fountains
---
---
Go to Covered Outdoor Kitchens
---
---
---
---
---
Go to Home from Teak Deck Furniture
---
Backyard Design Ideas - Proudly serving the Lake Norman area of Central North Carolina including the following towns and counties; Mooresville, Troutman, Charlotte, Statesville, Mt. Ulla, Mt. Mourne, Davidson, Huntersville, Denver, Iredell County, Mecklenburg County, Lincoln County, Cabarrus County, Catawba County, Rowan County. Call us today for a free estimate. 980-722-7370.
---