Beverage Carts Add the Ultimate in Convenience to Any Outdoor Gathering
What's a Beverage Cart?
What are beverage carts and who needs them?  Well, it depends - do you ever get tired of loading up coolers with ice and drinks for your outdoor gatherings?  Wouldn't it be great to have a way to stock a "cooler" with everything you need, then roll it over to the party?  Wouldn't it be great to avoid having your guests plunge their hands into icy water as they fish around for a cold beverage?  Besides, who knows where Uncle Lenny's hands have been anyway?  If any of this is a concern for you, a beverage cart may be the answer.  These are much more than just coolers on wheels.  Most are large enough that they won't need restocking except for the largest of gatherings.  Some hold hundreds of canned drinks and still have room for ice, condiments, and several two or three liter drinks as well.  Just plug them in to regular household current and you're "good to go" for the rest of the party!
Portability
Wheels or casters make beverage carts easy to maneuver before or during the party.  The wheels lock for stability after you get your party cart to its destination.  If your patio is across the yard this is a great step saver.  If your a lake liver wouldn't it be nice to load up once and be ready for the whole day out on the pier?  How about poolside?  Eliminate all those annoying back and forth trips to the kitchen for more ice or more drinks.  Stop the hassle of bag after bag of ice, and rush trips to the store for more.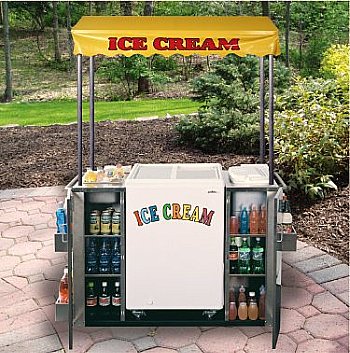 Lots of Options
Most models have refrigerators, and some even have freezers as well.  Even without a freezer, ice will last a long time in a refrigerated ice storage space.  If the drinks are cold to begin with, ice lasts longer anyway - so you get the best of both sides.  Almost all of these are constructed from stainless steel, and why not?  It looks great, is durable, and holds up well outside.  Other features to look for include automatic defrost for the fridge or freezer.  As with other outside appliances, a lockable door is a wise choice.  Look for towel bars (which usually serve as cart handles too) and side shelves for things that don't need to be kept cold.  Some models include trash cans, but personally I'd rather tie a trash bad to the handle and use that cart space for keeping something cold.  There's no reason not to use the refrigerator for cookout items like meat or tomato slices, so don't feel limited to just beverages.  How you organize your beverage cart is up to you and your needs.
There is even an option for an ice cream freezer complete with a colorful banner!  How cool is that for a kid's birthday party?  Even big kids love ice cream!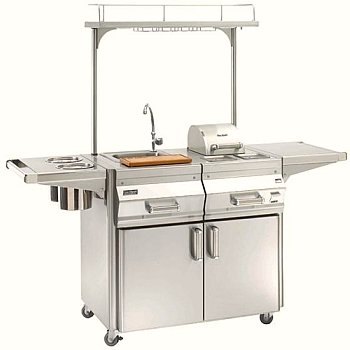 If you simply must have the absolute coolest of the cool...there's even a solar powered model.  It has a sink and faucet, a cutting board, and an ice drawer.  No refrigerator, but the solar panels power a water pump, lights, and a blender!  Fire Magic makes this one and you can see it at Home Click.
---
Go to Koi Ponds
---
---
---
---
---
---
Backyard Design Ideas - Proudly serving the Lake Norman area of Central North Carolina including the following towns and counties; Mooresville, Troutman, Charlotte, Statesville, Mt. Ulla, Mt. Mourne, Davidson, Huntersville, Denver, Iredell County, Mecklenburg County, Lincoln County, Cabarrus County, Catawba County, Rowan County. Call us today for a free estimate. 980-722-7370.
---