Choosing the Best Deck Railing Gives Your Deck A WOW! Factor
Choosing the best deck railing design for your deck can make a huge difference in its overall appearance.  You can take your deck from ordinary to spectacular by making the best choice here.  Rails have an obvious and necessary function - keeping people from falling off your deck - but rails also serve an important aesthetic role.  Make your deck pop with the right railing.  But first...
Do you really need deck railing?
If your deck is low to the ground, railing may not be necessary.  Jurisdictions vary, but if your deck is less than about 30 inches from the ground, railing may not be required by your local building code.  As always, check the building code in your area before deciding.  Now, just because you can build a deck without railing, that doesn't mean you should build your deck without it.  Think about who is likely to be using your deck.  A 2 year old or a 92 year old could be significantly injured falling off of a 30 inch high deck.  For that matter, a 22 year old could get hurt, they just heal faster.  (at least that's what I recall - its been a while you know)  Anyway, consider who your guests will be and plan accordingly.  If your deck is near the upper end of the requirement range, strongly consider adding railing.  If your deck will be near the lower end of the range, you may be fine without any railing.
There are other ways to compensate for no railing if you decide to go without it.  You can strategically place items around the deck to serve as a substitute railing.  Plants, furniture, benches, grills, barbed wire...Okay, maybe not the barbed wire, (I was just checking to see if you were paying attention) but you get the idea.  Built in benches and planters can serve as a more permanent barrier.  Wide stairs are another option for those in between applications.
As you will see, railings can enhance and beautify your deck as well as provide the necessary safety requirements.  But those same railings can interfere with your view from your deck.  The trick is to balance those three considerations: safety - beauty - view.  And, as always - budget.
Let's assume you will need railing ideas for your deck and look at some options.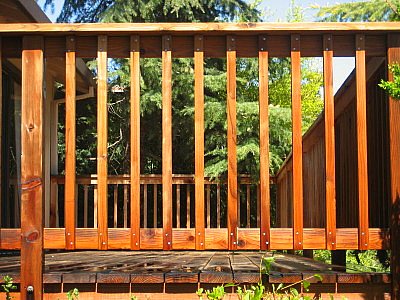 Wooden Deck Railing
Wooden Deck Railing
A standard 2X2 wooden railing system is the most common type of railing, and for good reason.  This is the most cost effective railing design, it works well and looks great.  Over time it will naturally need the same maintenance that the rest of a wooden deck will need, so keep that in mind.  The biggest drawback to this style is that the 2X2 balusters have a strong tendency to warp and twist.  Some of them will be just fine for years, but it seems there are always a few trying to perfect their pretzel imitations.  The same style of railing is available in composite material.  The overall look is the same, but you eliminate the twisting, warping, and most of the maintenance.  But the components for composite railing are very expensive.  In my opinion, the expense makes other railing options more attractive.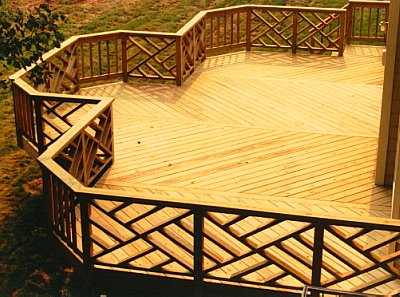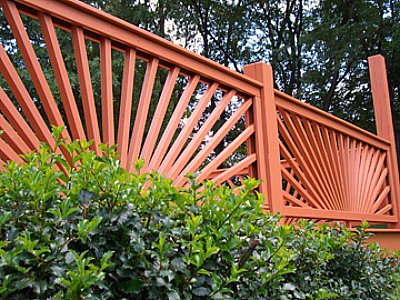 As you can see, wooden railing can be modified into ornate and interesting patterns.
A sunburst pattern is a popular way to create interest and style to your railing design.  The materials cost for any patterned design will be a little higher, and the labor cost will be significantly higher.  Just remember, putting a wooden 2X2 into a different pattern does not stop those "pretzels" from twisting.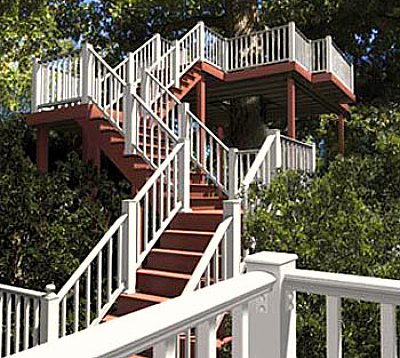 Vinyl is a Low Maintenance Option
Vinyl Deck Railing
Vinyl or PVC deck railing is a popular alternative to wood.  Colors are limited, with white being by far the most popular.  There are various styles of handrails and balusters, but overall the options are similar to standard wood railing.  But vinyl doesn't twist, rot, warp, etc. like wood does.  It will not need staining or sealing.  Wash it off occasionally and it will continue to look great for years.  Vinyl is not quite as sturdy as wood or some other choices, although in general it works fine.  Just tell Aunt Mildred to lean on the house, not the railing.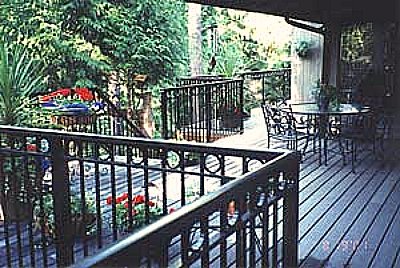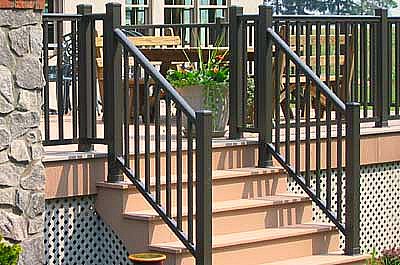 Aluminum - Classy and Durable
Aluminum Deck Railing
Aluminum deck railing offers yet another option.  Sturdy, lightweight and attractive - it can be the ideal solution for many homeowners.  Again, Aunt Mildred doesn't need to hang over the edge with this choice, but for normal use, its fine.  A variety of colors and styles are available, so you are sure to find a look that suits you and your deck.  Consider combining aluminum balusters with wooden posts and rails.  You will get increased sturdiness and an interesting look.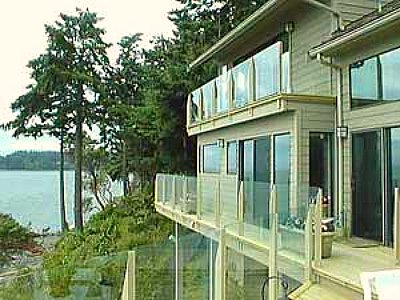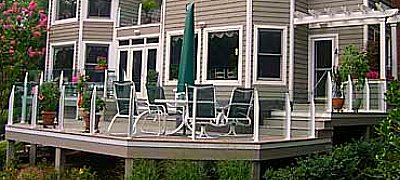 Glass Maximizes Your View
Glass Railing
What could be better than clear glass for the ultimate view through your deck railing?  Numerous options are available including solid panels as well as individual "balusters" made of tempered glass or acrylic.  Glass deck railing is expensive, and is best utilized over a lake or to maximize a mountain view.  The framework for the glass can be made of aluminum, vinyl or wood.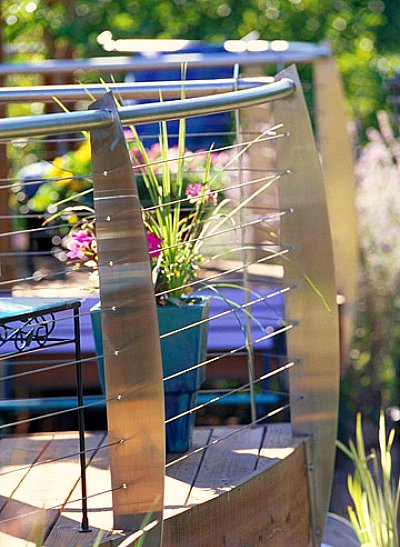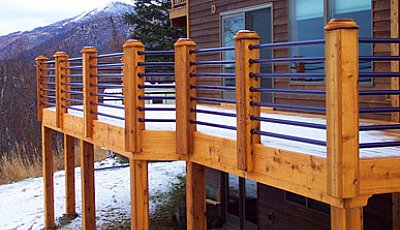 Specialty Railing Systems
Custom deck railing can be made of almost anything or a combination of many things.  Stainless steel can be fabricated to form a stunning rail system.  Cables or rods can be passed through posts to form an interesting and nearly invisible rail.  Wrought iron railing is very strong and can be very decorative as well.  It basically comes down to balancing your needs, your wants, and your budget.
TIPS
Make your top rail wide enough to hold a drink cup or a small planter.  A 2X4 isn't wide enough, but a 2X6 or a standard deck board works well.  However, the handrail on your stairs should be narrower so it can be gripped by the average hand.  2X4's work well here.
Deck railing height is usually either 36" or 42".  Many local codes limit the spacing between balusters to no more then 4".  You can use a 2X4 block (which is 3 1/2") as a simple spacer.
Lattice can be used to block railing for small pets.  Its easy to install on most decks, and is easy to remove if you no longer need it.
Speaking of lattice, you can fabricate lattice panels for increased privacy and / or shade. (see below)
---
Go to Cable Railing
---
---
Go to Backyard Water Fountains
---
---
Go to Covered Outdoor Kitchens
---
---
---
---
---
---
---
---
---
---
---
---
Backyard Design Ideas - Proudly serving the Lake Norman area of Central North Carolina including the following towns and counties; Mooresville, Troutman, Charlotte, Statesville, Mt. Ulla, Mt. Mourne, Davidson, Huntersville, Denver, Iredell County, Mecklenburg County, Lincoln County, Cabarrus County, Catawba County, Rowan County. Call us today for a free estimate. 980-722-7370.
---