Ready for Deck Staining?
Well, Almost!
Ready to start the deck staining? Not quite! Take a good look at the area around the deck. Cover up anything that will be harmed by dripping or splashed stain. That includes the area under the deck, especially if you have a patio beneath your deck. Okay, you've washed your deck, you've sanded it smooth (hopefully), you've blown away the sawdust, and you've covered up the stuff you don't want stained. Let's do it!
One more thing. There are products (usually some formulation of oxalic acid) known as "deck brighteners". These are designed to enhance the natural color of the wood before you stain it. They work fairly well on woods other tham pressure treated pine. Cedar, redwood, and others respond well, but pressure treated wood really isn't worth the effort or expense. If you want to give it a try, test it on an inconspicuous spot before covering the deck.
Now - you're ready to stain!
What type of stain?
There are two basic types of deck stain - water based and oil based. I highly recommend oil based. It's a bit messier to work with, it has a strong odor until dry, and you need solvent to clean up afterwards. But the oil based stain tends to penetrate the wood better and it usually lasts longer. On average you can expect to have to restain about every three years. With water based stain, you may need to recoat it annually, at least every other year. Of course, these are averages - each situation has its unique combination of factors that will determine your particular situation.
I recommend a semi-transparent or translucent stain. They will enhance the wood rather than cover it. Do not paint you deck! If you really want a solid color deck use an opaque stain.
Check the Weather! You will need two good weather days after you apply the stain to allow for drying. If rain is expected, wait! It may be frustrating, but if your wet stain gets rained on, you may be going all the way back to step one. Read the directions on the can to determine optimum conditions. (usually a temperature range)
What is the best way to apply stain? Good question! The answer is - I don't know! That is going to be up to you. There are people who swear by several methods of deck staining. I'll highlight the pros and cons of each.
Brushing I believe this is still the best way to apply stain. Brushing tends to get the stain to penetrate the wood better than the other methods and produces a nice even coat. It is slower and a bit tedious, but the result is worth the effort. With a brush you are "forced" to pay close attention to what you are doing, so you tend to eliminate missed spots or uneven application. Be sure to quickly wipe any drips or runs to avoid dark spots. Use a "dabbing" motion to get stain into tight crevices.
Roller Rolling is another popular method of applying deck stain. A roller works fine for the deck boards, although you should be careful to avoid puddles. Typically the roller is wider than the board, so its easy to create pools of stain in the area between boards or in the area where the roller overlaps an adjoining board. Be sure to brush out any of these areas if you use this method. One plus to this method is that you will be able to stand up while you work, at least most of the time. You will also need to use a brush to get to the areas where a roller will not fit. A small 3 or 4 inch roller is very handy for posts and balusters if you are rolling. The roller is faster than the brush, but I don't think you get the same penetration of the deck stain into the wood. As noted, you will still need to use a brush after rolling certain areas.
Sprayer Spraying is a popular method of deck stain application, primarily because it is fast and easy. You don't need a fancy power sprayer - a simple garden sprayer will do the job just fine. Yes, the same style you spray weeds with. The stain goes on quickly and you won't need to crawl around with a brush. This method also makes it easy to get into most of those odd angles and crevices. Be sure to lightly go over the area with a roller or brush after you spray it, to remove puddles and to increase penetration. You will waste a lot of stain with this method. When spraying the posts and balusters you will spray more stain off into the air than goes on the wood. So be extra careful to cover up plants and other yard treasures (maybe the neighbors car) before you spray. You will also need to cover your house where the deck meets the house. You can easily control a brush or a roller, but the stain coming out of the sprayer sometimes seems to have a mind of its own. Be sure to avoid windy days - even a light breeze can make spraying a disaster.
Paint pad I am not a fan of a paint pad in a deck stain application. If you have a very smooth deck surface, they may work all right. But most decks are not that smooth and the pad can snag frequently. If you didn't sand your deck, I'd say forget this method. However, if your deck is made from one of the more exotic wood species it may be smooth enough for a pad. There are some folks who really like this method. If it works for you, be sure to follow the same considerations with the roller section above.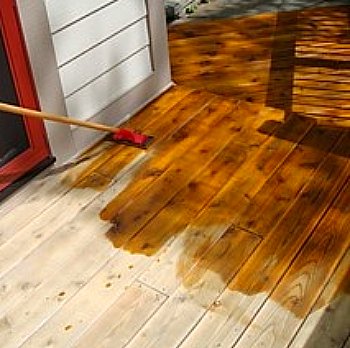 TIPS
Always start staining the rails, posts and baluster first. Work from the top down, being careful to wipe up drips or runs before they dry.
Keep some mineral spirits close by for wiping off any splatters or other "uh-ohs" from places where you didn't want deck stain. Its easy to clean up if you get it early, not so much if you let it dry.
Stir your stain often. Unlike paint, stain does not stay well mixed for very long. If you need multiple gallons, mix about three of them in a five gallon bucket to maintain consistent color
Don't buy the cheapest stain. You get what you pay for. An inferior product produces an inferior job and it won't hold up. Spend a little more and buy the good stuff. You won't notice the few extra dollars in six months, but you will notice a poor stain job with a cheap product.
---
Go Back to Preparing the Deck
---
---
Go to Covered Outdoor Kitchens
---
---
---
---
Backyard Design Ideas - Proudly serving the Lake Norman area of Central North Carolina including the following towns and counties; Mooresville, Troutman, Charlotte, Statesville, Mt. Ulla, Mt. Mourne, Davidson, Huntersville, Denver, Iredell County, Mecklenburg County, Lincoln County, Cabarrus County, Catawba County, Rowan County. Call us today for a free estimate. 980-722-7370.
---