An Outdoor Refrigerator Increases the Convenience Of Any Outdoor Kitchen
An outdoor refrigerator adds another level of convenience to any outdoor kitchen.  Cooking outside is great.  Eating outside is always fun.  But running back inside every time you need a cold drink, or when you're ready for the steaks to go on the grill, can be a pain.  Just stock up the outdoor refrigerator - problem solved!  You can spend from several hundred dollars to over four thousand dollars, so there is clearly a wide range of styles and options.  What should you think about as you choose the right model for you?
Which outdoor refrigerator is right for you?
There are a variety of styles made to fit into whatever design you have.  Some outdoor refrigerators are made to fit under you countertop.  Some of those are built in to the cabinetry, but most are actually free standing models that are sized to fit into standard sized openings.  Those openings are usually 24 inches wide by 34 inches high, but carefully measure your cabinet opening and the refrigerator to insure compatibility.  Interior capacity ranges from about 4 cubic feet to over 5.5 cubic feet.  There are smaller 15 inch wide models, but unless your space is very limited, you will be happier with the larger size.  Most refrigerators of this style have adjustable legs that allow for a custom fit into a standard opening.  You simply raise or lower the legs to the height you need.  Most of these models can also stand alone, without a cabinet around it or a countertop over it.  So you have a great deal of flexibility.  You can use it as a stand alone refrigerator for now, then install it under a countertop later as you expand you outdoor kitchen, if that fits into your plan.

There are also stand alone electric coolers available.  These are not intended as a permanent fixture, but are designed to be stored until needed, then rolled out into use.  They are fine for cooling canned or bottled beverages, but are not that useful for storing meats or condiments prior to use.  Most of us have seen the round, rolling "ice tubs" filled with drinks in ice.  Electric coolers are similar, but no ice is required.  They are essentially top loading refrigerators, complete with coils and compressors just like any other refrigerator.
Cart style outdoor refrigerators are discussed on a separate page.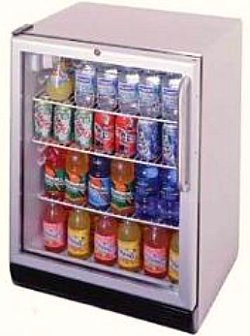 Common Options
By far, the most common construction material for outdoor refrigerators is 304 stainless steel.  That's a good choice and will serve you well for many years.  Other common options are either a wrapped stainless steel door or a glass door.  Obviously, the advantage of glass is that you know when you need to restock without opening the door.  This disadvantage is that your nosy neighbor knows, too.  Glass doors typically eliminate door shelves, so decide you don't need those shelves before choosing glass.  And speaking of the door, give some thought to which direction you want it to swing.  Just like your indoor refrigerator, you need to be able to access the contents without having to reach around the door.  Most models are available in either swing direction.  
You may also want to consider a drawer style refrigerator.  These models don't have a door.  Instead they have two or three drawers that open like your other kitchen drawers.  The advantage here is the accessibility of items that would normally be at the back of your refrigerator, behind all the other stuff, are now readily available.  Think how much easier to open a drawer, even the bottom drawer, and remove or return what you need.  Now compare that thought with the idea of getting on your knees and reaching deep into the rear of a standard refrigerator on the bottom shelf.  I think the drawer style models are worth a very strong look.  The two drawer models can even hold a 2 liter drink upright in the bottom drawer.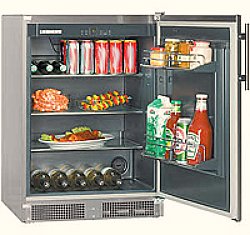 Custom Touches
There are a number of higher end options available as well as a number of more standard ones.  Most models come with automatic defrost, but not all.  This doesn't add much cost, so you may as well get it and avoid the aggravation of doing it the hard way.  Ice makers are available on some models, but the amount of ice produced is not sufficient for even a modest gathering.  But if there are only two or three people, you may find it adequate.  In my opinion, don't spend money here.  Besides, you will lose interior space - which is already limited.  An interior light is a nice feature and will help when you've got the light down low enjoying the darkness.  Digital displays and electronic touch pad adjustments are impressive but don't really add much to the usability of an outdoor refrigerator.  An exterior temperature readout option is also not critical.  I do recommend a lockable door - especially if your refrigerator will remain outside and will be stocked.  Animals (including the nosy neighbor above) need to be kept out, as do neighborhood kids.

---
Go to Outdoor Furniture
---
---
---
---
---
---
---
---
Go to Outdoor Kitchen Cabinets
---
---
Go Home from Outdoor Refrigerators
---
Backyard Design Ideas - Proudly serving the Lake Norman area of Central North Carolina including the following towns and counties; Mooresville, Troutman, Charlotte, Statesville, Mt. Ulla, Mt. Mourne, Davidson, Huntersville, Denver, Iredell County, Mecklenburg County, Lincoln County, Cabarrus County, Catawba County, Rowan County. Call us today for a free estimate. 980-722-7370.
---