Backyard Fire Features Add Appeal to Any Design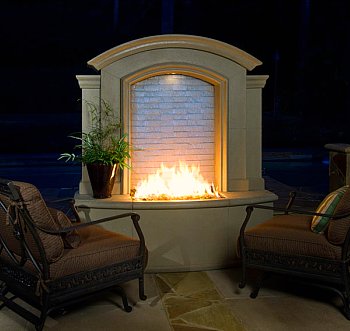 Backyard fire features feed the fascination people have always had with fire.  Where does everybody gather on a camping trip?  Ever had a sing-a-long around the fountain?  Ever sat and talked for hours around the plant?  Have you ever sat quietly and contemplated life as you stared into a grill?  No!  (Well, except for Uncle Lenny - but that's different)  Those activities are reserved for fires.  There is something magical about a fire.  Something comforting.  Something reassuring.  Something mesmerizing.  Add a fire feature to your outdoor living design and watch the magic happen.  Extend the season for backyard fun by adding fire.  There are few things more relaxing than sitting outside on a cool October evening, staring alternately between the stars and the fire, sharing good conversation and good times with good friends.  Maybe your backyard can use a full blown outdoor fireplace.  If you have the space and the budget - great!  You'll love it. Even if your yard or your bank account won't let you go that far - backyard fire features can be added in several ways.  One of them is sure to fit your situation.
Backyard Fire Features Come in Many Forms
Fire Pits
Fire pits are essentially bowls or containers that stand on short legs.  They are made of a variety of materials and come in many designs.  They can burn a variety of materials including wood, charcoal, or gas.  They can be portable or fixed as part of a built in backyard feature.  They are affordable and some can be had for under $50!  That's a lot of impact for a little money!

Fire Rings
Fire rings are another type of backyard fire feature that is placed directly on the ground.  It serves to contain a fire safely.  The fire is confined to the fire ring and can't (or shouldn't) spread outside the ring.  A backyard fire can be enjoyed safely inside the ring.  They are portable, but the ground underneath will be charred and any vegetation will be burned.  So if you want to move your fire around or if you want it on a deck or patio, a fire pit or chimenea will be better.  
Chimeneas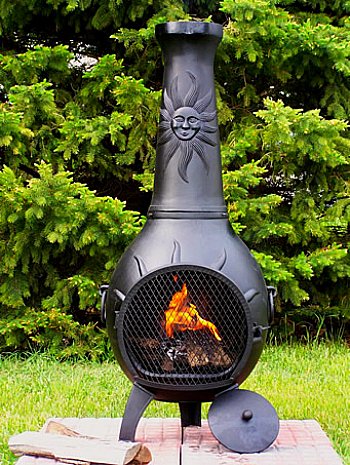 Chimeneas are yet another type of fire feature.  They are taller and more ornamental than the other options discussed here.  They work the same way but are more artistic and interesting looking in their design.  The top part is reminiscent of a chimney - hence the name.

Regardless of the particular style you choose, a fire feature will be a special part of your overall backyard design.  The use of your outdoor living area will be extended well into the cooler months.  Whether fixed or portable, table top or masonry, wood or gas - build a fire and start building memories.
For a whole new level of interest in your backyard, consider adding a water feature to complement the fire. These competing elements combine to create a fantastic look and feel to your outdoor living area.

---
Go to Outdoor Fireplace
---
---
---
---
---
Go to Backyard Water Fountains
---
---
---
---
---
---
---
Go Home from Backyard Fire Features
---
Backyard Design Ideas - Proudly serving the Lake Norman area of Central North Carolina including the following towns and counties; Mooresville, Troutman, Charlotte, Statesville, Mt. Ulla, Mt. Mourne, Davidson, Huntersville, Denver, Iredell County, Mecklenburg County, Lincoln County, Cabarrus County, Catawba County, Rowan County. Call us today for a free estimate. 980-722-7370.
---