An Outdoor TV Keeps the Fun Going After the Game Starts
Why would you want an outdoor TV?  After all, part of the appeal of an outdoor gathering is that you get away from those things, right?  Yes, well at least most of the time.  But there are times when you may want the best of both the indoor and the outdoor worlds.  Ever had this problem?... You worked hard to get everything just right for your outdoor gathering.  The weather is great.  The food is perfect.  Your backyard design looks great.  Your friends and family are having a great time.  Then comes game time.  Whether it's Saturday afternoon watching Clemson beat whatever poor team has to play them, Sunday afternoon watching the Carolina Panthers spank somebody, a NASCAR race, or whatever...BOOM!  Everybody runs inside to the television and the outdoor fun is over.  Except of course for you - left outside to gather up stuff and clean up.  But no more!  Now the game can come outside, too!  And you don't have to carry or roll the TV outside from the living room, dragging extension cords and coaxial cables all over the place.
Game time isn't the only time for an outdoor TV.  Can you imagine watching a movie from the hot tub?  Maybe watching "Shark Week" from the pool?  Or maybe just watching you favorite show while relaxing on the deck.  No need to move a TV in or out.  Just turn it on, and enjoy!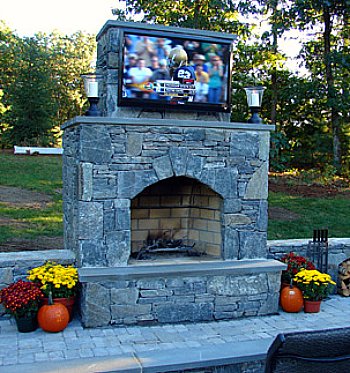 Why Do I Need a Special Outdoor Television?
The enemies of an outdoor television - or any electronic equipment - are rain, humidity, heat, cold, and bugs.  And stuff like tornadoes, lava flows, earthquakes... but I'm talking in less dramatic terms here.  So for a television to hold up outside, it must be able to counteract those things.  The most obvious problem is water.  Outdoor TVs are not waterproof, but they are water resistant.  Waterproof means it can safely be immersed under water.  Bad idea!  But falling rain and humidity should not cause any problems.  All televisions produce some heat, and that heat needs to be able to escape.  So there has to be a place for warm air to leave the cabinet.  Hence the reason you don't put the TV in the pool.  The doors and windows of your home are not waterproof either.  If they were, floods wouldn't be a real problem - just close the doors and windows!  So it's best to cover your television when it's not in use.  These outdoor televisions are made for permanent installation outside in the elements, but that doesn't mean you can't prolong its life by covering it up when you aren't using it.

What's Different About an Outdoor TV?
Weatherproof TV's are made very differently from regular indoor TV's.  The cabinets are designed to allow heat to escape without allowing water, dust, and critters in.  But that's not the only difference.  The wiring, connections, and interior components are either made of a special material or have a special coating applied that protects them from the small amount of dust and humidity that may work its way inside.  They are also designed to be unaffected by wide ranges of heat and cold.  But there is more still.  If you take your regular TV outside on a sunny day, you won't be able to see the images on the screen very well - if at all.  Outdoor televisions are made to have a much, much brighter image with much higher contrast than indoor televisions. With this technology, a nice HDTV with a flat panel LCD screen looks as good in the sun as your other TV does in your living room.  Marine speakers - like those found on boats - provide quality sound.  Most screens are made of tempered glass with an anti-glare, anti-reflective coating applied.

Available Options
Some of the higher end models automatically adjust the brightness and contrast, based on the ambient light, so that the picture is always optimized.  A water resistant remote is nearly a necessity.  Where will your beautiful new outdoor TV gets its signal?  You mean you don't have a TV cable outlet wired up on your patio across your backyard?  No worries.  Wireless transmitters make an easy chore of getting the signal from your house to your outdoor TV.  Just connect one end (the transmitter) to the cable or satellite box in your house, and the other end (the receiver) to your TV.  Now you've got a signal.  What about power?  Well, if getting permanent power is an issue, you can buy a power inverter that will allow your 120 volt TV to operate off of a 12 volt battery.  That may not be the best long term solution for a permanently mounted TV, but can you say tailgating?
From 27" to 65", outdoor TVs keep the fun outside, no matter what's on television!
---
Go to Outdoor Fireplaces
---
---
---
---
---
---
---
---
---
---
---
---
Backyard Design Ideas - Proudly serving the Lake Norman area of Central North Carolina including the following towns and counties; Mooresville, Troutman, Charlotte, Statesville, Mt. Ulla, Mt. Mourne, Davidson, Huntersville, Denver, Iredell County, Mecklenburg County, Lincoln County, Cabarrus County, Catawba County, Rowan County. Call us today for a free estimate. 980-722-7370.
---