Chimineas May Be Perfect For Your Outdoor Fireplace Choice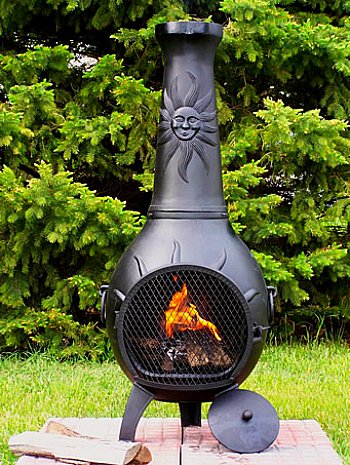 What are Chimineas?
Chimineas are not a small furry creatures with sharp claws and long teeth living in the Amazon jungle, feeding on livestock and chickens.  No, that's something different all together.  A chiminea (also spelled chimenea) is a free standing, front loading, outdoor fireplace with a narrow chimney and a round bulb-like body.  It was designed hundreds of years ago by Mexican tribesman in order to contain a fire and to keep the rain off of the fire.  A properly designed chiminea optimizes air draft and reduces smoke.  They were originally made of clay, and are still offered in clay today.  Purists insist that a proper chiminea has to be made of clay, but metal models are quite popular, with good reason.
What Should my Chiminea be Made Of?
Clay or Metal?
Clay was the construction material of the original chimineas and is still used today.  Clay provides an artistic medium for individual expression, so each fireplace has it's own unique characteristics.  Clay is the traditional material used for chimineas, but then, wheels used to be made of stone.  Metal models have other advantages as discussed below.
Clay
As mentioned, clay was the original material used on the original chimineas.  That may be because the original makers didn't have the option of cast iron or cast aluminum - but I speculate.  What are the advantages of clay units?  Well, they are pretty, and each one has some unique characteristics.  They are easy to paint, although the paint does fade over time.  But then you can re-paint it, so it can start re-fading.  Some say the appearance improves with use - that the character of an individual piece grows.  Clay units can break if mishandled.  The clay should be sealed when new and re-sealed every 3 to 4 months, so be aware of the maintenance requirements.  The first few fires should be kept small so that the clay can become seasoned.  While in use, clay will not get as hot to the touch as its metal counterpart.  Either one gets hot enough to burn you, so be cautious.
Metal
A much more durable option is cast iron, or perhaps even better, cast aluminum.  Aluminum is lighter, will not rust, and is easier to move.  Both materials are very durable and safe, with minimal maintenance.  Metal models are often beautiful in their own right, and be quite ornamental.  With normal use they will have a long, relatively carefree life.  Metal chimineas do get very hot, so be very careful.  Children and clumsy adults should be kept well away from an active chiminea of any type.  Like their clay cousins, metal models are easy to repaint if needed.  There is a lot more work involved in assembling a metal chiminea that a clay model.  Copper units are also available and are prized for the beauty of the metal.  Routine maintenance is required to keep the copper in its original shiny condition.
Fuel Types
Before using most chimineas you will need to build up the base of the fire pot.  Add sand or pea stone to within 3 to 4 inches of the mouth opening.  The fire will then be built on this base.  Be sure to carefully position the unit well away from your house, trees, or any other flammable material.  Pretty much any hardwood is okay to use in a chiminea, although the traditional wood is pinion wood.  Pinion is common in the southwest part of the United States and is loved for its pleasant aroma and for its insect repellant qualities.  Whatever wood you use will be limited by the size of the fire pot and the mouth opening.  Be careful when choosing your wood and make sure it actually fits.  Smaller pieces of wood are typically used in a chiminea as compared to a standard fireplace.  Firelogs, gel, and even gas are also used as fuel.  In my humble opinion, a gas chiminea greatly dimishes the appeal and the character of a chiminea - but, to each his own.
So, if your interest is artistic expression, or historical accuracy - get a clay chiminea.  If you are more interested in a long lasting, low maintenance outdoor fireplace option - go with a metal model.
---
Go to Outdoor Fireplaces
---
---
---
---
---
---
Backyard Design Ideas - Proudly serving the Lake Norman area of Central North Carolina including the following towns and counties; Mooresville, Troutman, Charlotte, Statesville, Mt. Ulla, Mt. Mourne, Davidson, Huntersville, Denver, Iredell County, Mecklenburg County, Lincoln County, Cabarrus County, Catawba County, Rowan County. Call us today for a free estimate. 980-722-7370.
---