Use Low Voltage Lighting to Brighten Up Your Backyard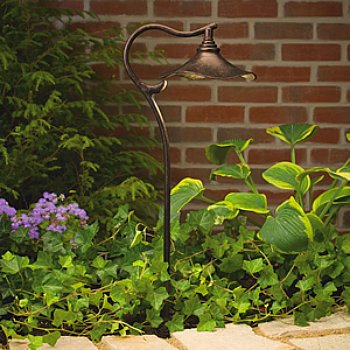 Low voltage lighting is the most popular family of outdoor lighting options. And for good reason. It's safe - it's easy to install - and it does a great job.
Pros
Low voltage outdoor lighting is the most versatile style of lighting for most applications. The strength or intensity of the light can be varied by selecting higher or lower wattage bulbs, Since these systems are operated with only 12 volts, they are safe to work with. 12 volts will tickle a bit, but it won't hurt you. You don't need to be an electrician to install your own system. In fact, you don't really need to know anything about electricity to be able to do this yourself. There are lots of styles and sizes readily available. If you need bright light - no problem. If you need soft, low level light - no problem. Low voltage bulbs are available from 10 watts to 50 watts, with intensity commensurate with wattage.
Halogen bulbs are the most common bulbs used with low voltage lighting systems, although flourescent bulbs are increasingly available. LED lighting may become the future of low voltage lighting as the technology continues to improve. Many systems come standard with photocells and / or timers, so manual turn on and off is not usually necessary. If needed, add-on photocells are available.
Since you are using 12 volts rather than 120 volts, these fixtures are cheaper to operate. The intensity of the light produced by low voltage systems is far greater than that produced by solar lighting systems. So whether you want soft pathway accent lighting or bright uplighting for a tree or a flag pole - no problem.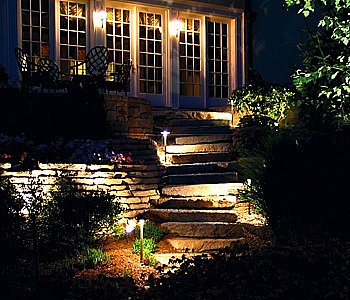 Cons
While still not a major concern, there is a lot more planning and a little more work involved when installing a low voltage lighting system as opposed to a solar lighting system. Having said that, it's still not hard. It's just that there is essentially no planning and no work involved with a solar powered system. With some very basic abilities, you will be able to install your own low voltage lighting system. Low voltage means that the system does not operate on the standard 120 volt system you have in your home. Those 120 volts have to be reduced to 12 volts. That reduction is accomplished with a transformer. The transformer has to be plugged into an outdoor receptacle (ground fault protected) and will need to be mounted to something. The side of your house will do, or you can mount it to a post or board secured into the ground. Just be sure to locate the transformer within reach of the power cord. Do not use extension cords for outdoor transformers.
What size transformer will you need?
To determine the proper size for a transformer, you will need to plan out your entire system. Low voltage transformers are generally available in a range of wattage production sizes. 300, 600, 900, and 1200 watt models are readily available. Each seperate lighting fixture has a range of suitable wattage bulbs it can accomodate. You will have to determine how many watts will be assigned to each fixture, and then add up the total wattage needed to power a circuit. For example, if you will use five 20 watt flood lights, five 15 watt spot lights, and six 10 watt pathway lights, you will need the capability to power up 235 total watts. ( 5 x 20 plus 5 x 15 plus 6 x 10 = 235) So a 300 watt transformer will suffice. You will still have the ability to add some more wattage, but its best not to push things to the limit. On the other hand, the amount of unused power should not be more than one third greater than what you do need. For example, if you need 450 watts to power your system you should not have a transformer larger than 600 watts. This is a rule of thumb, not a hard and fast rule, so don't sweat a few watts here and there.
Obviously you will need to plan out your system in order to know what to buy. Get some graph paper and a tape measure to help lay out a close to scale drawing of your area to be lighted. It's usually easier to make a very rough drawing as you walk around your yard and them transfer your drawing to the graph paper when you have a chance to sit down and take your time. Count fixtures, add up total wattage, and select the right transformer.
The better transformers have a multi tap design. This allows you have multiple runs of wire separated, but still running from the same transformer. In this way, a 900 watt transformer can have three 300 watt connections, rather than a single 900 watt connection. A centrally located transformer can have multiple circuits going in multiple directions, rather than having them all looped together. Some transformers also have connections that supply power greater than 12 volts, since power is lost over long runs of wire with several fixtures. However, be careful not to over-power your fixtures since that will decrease the life of the bulb.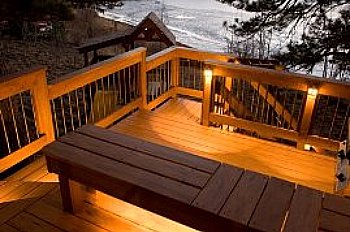 What about the wire?
There are different sizes of wire available for use with low voltage lighting systems. The bigger the wire, the more power the wire can safely carry. Wire is sized according to a guage - the bigger the wire, the lower the guage. The standard wire for low voltage systems is .12 guage wire, although smaller .14 or .16 guage wire, or larger .10 or .08 guage wire is available. Your wire should be direct burial wire for optimum performance and durability. However, the cable does not need to be buried. Hide it behind plants or under mulch and it will be fine. Just be sure not to create a tripping hazard.
So which wire size is right? That depends...keep reading.
Voltage Drop
In order to properly design and install a low voltage lighting system, you must be aware of and understand the concept of voltage drop. As electricity travels through a wire, some of the electricity is lost. What starts out at 12 volts may only be 8 volts by the time it gets to the far end of a run. The wire and the fixtures along the way act as a resistor, disipating electricity as it travels along. To compensate for that, better transformers have some connections with outputs higher than 12 volts. You may start a run with 18 volts and you will still have sufficient power at the end to power the 12 volt fixture. The size of the wire also affects voltage drop. This is important, because if you don't get the proper voltage to your fixtures, your light output will be reduced, sometimes dramatically. And this isn't a one to one relationship. If you get 85% of the correct power to a bulb, you may get only 50% of the output from that bulb. It drops dramatically from this point. Yes, it sounds tricky, but it's not that bad. There is a chart that will give you the needed information to design a low voltage system applicable to your needs. There is a very helpful and informative article, complete with the chart, available here.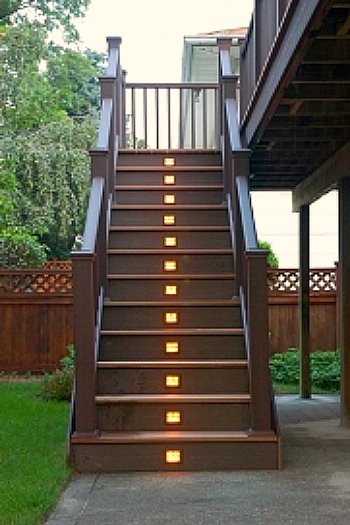 Low voltage lighting requires much more planning than solar outdoor lighting. Each solar device is independent and stands alone, so there is no concern about the number, size or distribution of other solar components. Low voltage lighting is the opposite in that each piece, from the transformer, to the wire, to the bulb, has an impact on the overall design. It isn't difficult, but you must plan out the overall design so that all the pieces work together. Pieces can be added or moved after installation, as long as you don't exceed your wattage limitation, and as long as your wire will reach. With solar lighting,you can just pull it up and move it - over and over if necessary.
---
Go to Low Voltage Design
---
---
---
---
Go to Backyard Water Fountains
---
---
---
---
---
---
Go Home from Low Voltage Lighting
---
Backyard Design Ideas - Proudly serving the Lake Norman area of Central North Carolina including the following towns and counties; Mooresville, Troutman, Charlotte, Statesville, Mt. Ulla, Mt. Mourne, Davidson, Huntersville, Denver, Iredell County, Mecklenburg County, Lincoln County, Cabarrus County, Catawba County, Rowan County. Call us today for a free estimate. 980-722-7370.
---