A Covered Outdoor Kitchen Truly Takes Indoor Convenience Into The Great Outdoors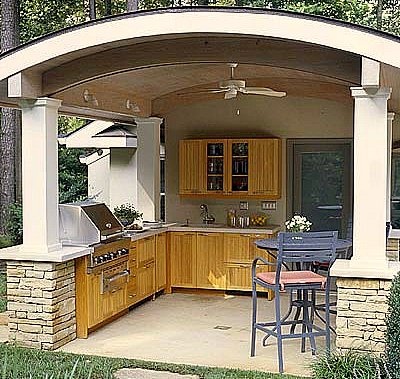 Does Your Outdoor Kitchen Need A Roof?
A covered outdoor kitchen is great, but your outdoor kitchen does not have to be covered in order to give your lots of use and enjoyment.  Having said that, a roof does take your kitchen to the next level.  Obviously, a covered area protects you and your guests from the rain and sun.  It also protects your outdoor furniture, your grill, all of your outdoor stuff as well.  You will gain a whole new level of usability with a covered outdoor living area.

A covered area does not have to be an outdoor kitchen.  These concepts apply equally to a covered deck or a covered patio.  The advantages and considerations are the same whether you cook under the roof or take a nap on a lounger under a roof.
Whether you are starting a project from the ground up, or planning to add a covering to an existing outdoor living area - the ideas here apply.
How is a covered outdoor kitchen (or patio) different from a covered porch?  Typically, a covered porch is built at the same time as the house and shares a portion of the house roof design.  Building a roof over an attached area at a later time requires some additional consideration.
Attached or Free-standing?
The first determination you need to make regarding your covered outdoor kitchen (or deck) is whether you want to attach it to your house or not.  If you want to attach it to your house, you'll have to make some modifications to the exterior of your house where the attachment will take place.  You may also have to work around things like second floor windows, existing roof lines, siding or veneer, guttering and water drainage, and other things.  A free-standing covered outdoor living area doesn't have those issues - but you'll have to walk through the rain to get to it.  That may or may not be a significant issue for you - you'll have to decide that.  If you are adding a roof over an existing area, that area is most often attached to the house already.  This isn't a right or wrong issue - either way is fine.  But they do involve different issues.

If your covered outdoor kitchen will be attached to your house, you'll need to be aware of some extra considerations;
Two story houses - a special note - If you are attaching a covered outdoor kitchen to a two story house, you will need to be sure you have adequate space to attach the new roof to the side of your house.  Unlike a one story house addition, you will be adding the roof to the side of the house - not into and over the existing roof.  Make sure you have enough vertical room to clear second story windows and other architectural features before making your decisions.  How much vertical space will you need?  Check with your local code enforcement office, but most places require at least a 4/12 pitch ratio.  That means that for every 12 inches (one foot) of roof length, you must have at least 4 inches of vertical drop.  So, for every 10 feet of length, you will need 40 inches of drop.  Start with a minimum ceiling height of 8 feet and add 8 inches to allow room for the ceiling joists (usually 2x6's), drywall, and plywood and you'll be fairly close to determining how much vertical space you'll need.
Style of roof
There are two basic roof styles to use when adding a covered outdoor kitchen to an existing house; a flat, shed style roof or a more traditional gable roof.  A gable roof usually looks better than a shed roof, but it costs more as well.  It looks less like an "add-on" and blends into the house better.  But, there are many shed roofs that look great as well, so don't despair if that is the style you need to use.  Consider the existing roof style when deciding which style of roof to use.  Make sure the finished product will blend into the existing style.  This isn't usually a "do-it-yourself" project for the average home owner.  If not done correctly, water can make a mess of your house, costing far more than the cost to hire a professional.
You'll also need to consider the type of veneer or siding on your house as part of your planning.  First, some of it will likely need to be removed in order to attach the covered area to your house.  If you have vinyl siding, that is a very simple issue.  If your house veneer is brick, stone or stucco, you have more of a challenge.  You will also need to consider whether to use the same style of veneer on the sides of your new roof, and whether you'll be able to match it.  You don't have to match it - often a different style adds interest, as long as it doesn't clash with the existing siding.
Will you want to cover the entire outside area, or just a portion of it?  Often it makes sense to leave some areas uncovered to enjoy the warm sun on cooler days.  I know, I know...the sun is bad for us.  (well, except for the part where we all die without it!)  Just use sunscreen.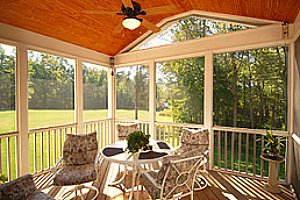 Other Things to Think About with a Covered Outdoor Kitchen
Placing a roof over an area affects more than you might realize.  By the way, for clarity's sake, the roof is what the rain falls on - the ceiling is what you look up at while under the covered area.  Personal experience tells me that needs to be said.

Here are a few things to consider as you think about a covered outdoor kitchen...  Here I am simply listing things to consider - not offering details on every solution.
Footings - A roof is heavy, and as such, it needs adequate support from the ground up.  You will need footings installed wherever the support columns are going to be placed.  There are a number of variables to determine the proper size, style, and depth of the footing for your particular project.  Your local building code enforcement office can help you with that determination.
Columns - You will need at least two support columns to hold up your covered outdoor kitchen.  If one side is attached to the house, both of the outside corners will need some form of support.  Depending on the size of your roof, you may need more than just two columns.  The size of the lumber and the span length will determine the number and placement of your columns.  As usual, check the building requirements in your area to be sure.  The support columns can be as simple as a 6x6 or 8x8 wooden column or as elaborate as a masonry and stone column.  Many styles will accomplish the task of adequate support - the appearance is up to you and your budget.  An in-between option is to use round precast columns with attractive top and base caps.  They provide an up-scale look with a reasonable cost.  Just decide which style blends best with your overall backyard design.
The Ceiling - Once you add a roof, you'll probably want a ceiling.  I say probably because you don't have to have a ceiling.  You can leave the underside of the roof unfinished if you want.  Just remember that it becomes a wonderful place for birds, insects, small mammals and trolls to build their houses.  Just kidding - everybody knows trolls live under bridges - but the other critters are real potential problems.  Assuming you want to finish the ceiling, you'll have to choose a material.  You can use moisture resistant drywall and paint it.  A beautiful ceiling can be built from stain grade wood, although it is one of the more expensive options.  A ceiling made of PVC panels is both attractive, durable, and low maintenance.
Electricity - Another consideration with the addition of a roof is electrical needs.  You will need lighting, and you'll probably want to include ceiling fans to keep the air moving on those hot summer days.  You may want to add wiring for a sound system and/or an outdoor television as well.  Remember that the electricity will come from your house, so make sure you have room for additional circuits in you panel box, and allow a way to get wiring from the panel to your covered outdoor kitchen.
Keep in mind that a roof collects rain water, which naturally flows downhill.  You will definitely want to have a system of guttering, downspouts and water drainage lines to collect that water and direct it away from you house as well as your covered outdoor kitchen.
Finally, be aware that your property is very likely to have building setbacks established on it.  Setbacks are the distances away from your actual property line where you are allowed to build anything, including your covered outdoor kitchen.  For example, you may have to stay 15 feet away from the side property line and 35 feet from the rear property line - or some other requirement.  These setback requirements apply whether your structure is attached or free standing.  If you violate these rules, you local controlling authority may require you to tear down your project and relocate it within the acceptable setbacks.
There are other options available instead of an actual structure.  If you just want to create some shade without a formal roof, consider a pergola for a beautiful option.  A series of fabric panels - called sail shades - can create interesting shapes and designs in addition to shade and cover.  For real simplicity, a traditional awning can serve as a great choice and can even be retractable.  So you're likely to find an options that suits your needs and your budget.  A covered outdoor kitchen can truly take your outdoor living area to a whole new level.
---
Go to Backyard Water Features
---
---
---
---
---
---
Go Home from Covered Outdoor Kitchens
---
Backyard Design Ideas - Proudly serving the Lake Norman area of Central North Carolina including the following towns and counties; Mooresville, Troutman, Charlotte, Statesville, Mt. Ulla, Mt. Mourne, Davidson, Huntersville, Denver, Iredell County, Mecklenburg County, Lincoln County, Cabarrus County, Catawba County, Rowan County. Call us today for a free estimate. 980-722-7370.