Patio Heaters are Great for Keeping Your outdoor Living Area Cozy in the Cooler Months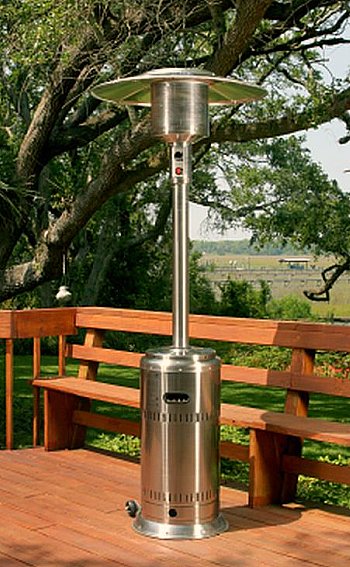 Need to Knock the Chill Off?
What are patio heaters?
If you are fortunate enough to live in a tropical paradise, well...what are you doing reading a page about patio heaters?  Go climb a palm tree or something.  For the rest of us, it gets cold outside for part of the year.  If you are like me and like to enjoy the outdoors even when it gets cooler, read on.  Depending on your specific climate, you may have only a couple of months of cool weather or you may have six months of really cold weather.  If you have more than six months of really cold weather - move!  Whatever the case, there is a patio heater that can help you to extend your outdoor activity time into the cooler months.

Outdoor heaters are available in a variety of sizes and styles, using different fuels, across a wide range of budgets.  One of them is sure to fit your particular needs.  They can even be used in greenhouses to keep your plants warm.  Depending on size and style, you can spend from $150 to $1500, with the most popular gas patio heaters being in the $350 to $450 range.
Not just for warming the patio or deck, patio heaters can be used in an outdoor kitchen...in a gazebo...out in the middle of your yard...even on a camping trip.  Anywhere you want to be outside and can use some warmth - that is where you can use your outdoor heater.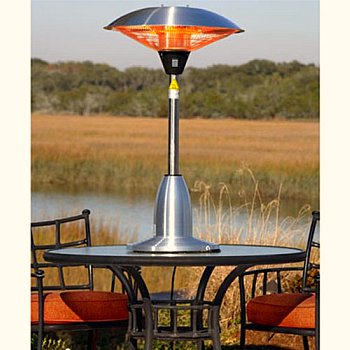 Styles
Most patio heaters radiate heat outward in a 360 degree circle.  A typical 40,000 BTU gas fired unit (above) will generate heat up to 20 feet away in all directions.  The majority of these heaters are powered by gas, either propane or natural gas.  Smaller sizes are available, including table top models.  These can be clamped to a table for security, and will typically send heat out in a circle about 7 or 8 feet from the heater.  Campers like these models as well.

Some gas heaters are designed for more permanent installations.  Ceiling mounted models are fixed to the ceiling - saving floor space - and most often operate on an existing natural gas line.  Other models are mounted permanently in the ground and also use natural gas, although you can find in ground heaters that operate on propane gas.  Either of these models provide heating capabilities similar to the large portable models, so the decision is about portability and mounting styles.  By far, the majority of applications use the portable style.
A spot heater focuses the heat into a single direction.  These are usually electric and in order to generate the same 40,000 BTU's as the gas unit, a 240 volt electric source is usually required and will need to be hardwired by a qualified electrician.  Larger spot heaters are usually mounted on a wall or other fixed surface using brackets.  They have a more industrial appearance compared to the radiant patio heaters, and are frequently used in the outdoor areas of restaurants, poolside, and other commercial applications.  Smaller, portable, 120 volt electric or portable gas spot heaters produce much less heat, but operate on regular household current.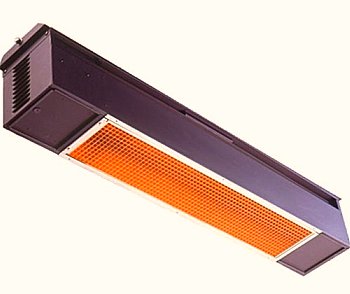 Features
The most common finish for patio heaters is stainless steel - with good reason; attractive, durable, weather resistant, everything you want it to be.  There are other options such as a copper finish, as well as limited colors (primarily black) and antique finishes.  Almost all models have some form of electronic push button ignition.  A common safety feature that is highly recommended is an automatic shut off feature in case of tipping over.  A heater cover is a good idea.  It's an inexpensive way to protect your heater from the elements and to keep it looking great and prolong it's life.

A word about fuels.  The options are electricity, natural gas, and liquid propane (LP) gas.  Propane is the most portable since you can take it anywhere as long as you can carry the tank.  These models can be used on a deck or a patio, moved out into the yard, into the garage, taken camping...wherever.  Natural gas works just as well, but you must have a gas line in the place you want to use the heater, and it should be connected to that line by a qualified professional.  If you know you won't be moving your heater, and you already have natural gas, this may be your best option.  If not, the expense of running natural gas to your home (if it is even available) will likely far outweigh any savings compared to propane.  Natural gas is the least expensive fuel option, even cheaper than electricity.  Propane is the most costly.  So weigh out your needs and compare which options are available to you before making a purchase.
Once you make your decision and buy a patio heater, you'll realize how great it is to be able to enjoy your outdoor living area well into the cooler months!
---
Go to Fire Features
---
---
Go to Backyard Water Fountains
---
---
---
---
---
---
---
Backyard Design Ideas - Proudly serving the Lake Norman area of Central North Carolina including the following towns and counties; Mooresville, Troutman, Charlotte, Statesville, Mt. Ulla, Mt. Mourne, Davidson, Huntersville, Denver, Iredell County, Mecklenburg County, Lincoln County, Cabarrus County, Catawba County, Rowan County. Call us today for a free estimate. 980-722-7370.
---