Deck Stair Design Must Complement the Overall Deck Design
No deck is complete until the stairs are built. The right deck stair design is crucial. Well, okay, some decks don't have any stairs, but let's forget about them for now. Obviously the stairs provide a way to get from the deck level to the ground (or to another deck level), but they can also add a lot of appeal to the deck - or not!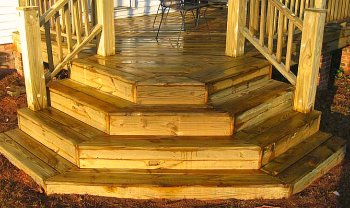 Doesn't this set of angled deck steps add a nice flair to an otherwise pretty basic deck? Your stair design needs to do the same for your deck
There are several things to consider when designing your deck stairs.
---
How wide should they be?
Will you need a landing?
Do you have enough room without changing directions?
What look are you after?
Will you stairs block your view to or from any important location?
---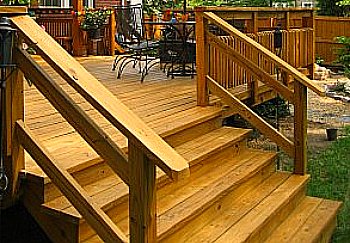 Stair width -
Your local building code will require a minimum width, usually somewhere around 36 inches. But you can certainly make your stairs wider. Keep in mind that your stairs are usually the focal point of your deck from the yard. You can create a warm and inviting look with wider stairs. They may be more practical as well. If there is a likelihood that more than one person at a time will be on the stairs, wider is definitely better.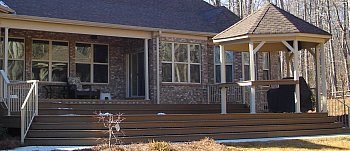 If you are stepping from one deck level to another, you may consider a continuous step or steps. You'll spend more money on the stairs, but that will be offset by eliminating the need for railing, which may cost substantially more. So the best deck stair design not only enhances the beauty of your deck, it may actually save you money as well!
---
Go to Deck Railing
---
---
---
---
---
---
---
---
---
---
Go Home from Deck Stair Design
---
Backyard Design Ideas - Proudly serving the Lake Norman area of Central North Carolina including the following towns and counties; Mooresville, Troutman, Charlotte, Statesville, Mt. Ulla, Mt. Mourne, Davidson, Huntersville, Denver, Iredell County, Mecklenburg County, Lincoln County, Cabarrus County, Catawba County, Rowan County. Call us today for a free estimate. 980-722-7370.
---