Backyard Water Fountains Add Relaxing Style to Any Backyard Design
Backyard water fountains are a great way to add interest to your backyard design.  Like fire, water has a mesmerizing effect on us.  Listening to the sound of water gently splashing in a fountain can put you in a relaxed mood quickly.  In fact, it can put you to sleep, and you can't get much more relaxed than that.  There is also an element of visual interest, which is part of the relaxing effect as well.  As you watch the water make its way through the fountain, and watch the ripples and bubbles - your mind gets taken away from your worries and you get to a quiet and peaceful place.  There is a reason that those "help you relax" sound machines have the sounds of water included.
The fountain itself can also provide beauty and interest, aside from the water.  Some backyard water fountains have intricate and ornate details.  Some have statues or figurines integrated into their design.  Some are more elegant and simplistic.  Find the right design and size to complement your existing backyard design ideas, or start with a fountain and build the rest of your design around it.  Either way, you won't regret adding a backyard water fountain to your design.
Styles of Backyard Water Fountains
There are three general styles of backyard water fountains; tabletop fountains, garden fountains, and wall mounted fountains.  Each style has many variations and sizes so you will be able to find one that fits well with your overall backyard design ideas.

If you're looking for a water feature but your space is limited, or if you don't want the maintenance issues associated with larger features - consider a smaller free-standing backyard fountain.  This is often the perfect option for limited space, limited budgets, or limited time.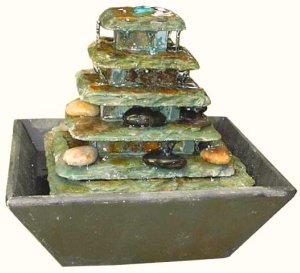 Tabletop Fountains - Tabletop fountains are small portable fountains that sit on a table or some other suitable surface.  The are usable indoors - in fact they are more often found inside rather than outside.  But there is no reason they can't be used outside to enhance your patio dining table or some smaller relaxation area.
Garden Fountains - Garden fountains are larger, more permanant fixtures.  They can be a dominant focal point of your backyard design or they can blend in more subtly.  Either way, they will be a significant part of your overall design.  From an elaborate multi tiered garden fountain to a smaller simpler design, backyard water fountains are sure to enhance your outdoor living area.
Wall Fountains - Wall fountains are designed for special applications.  Maybe there isn't room for a larger fountain, or maybe you have a wall or a fence that needs some interest added.  Either way, a wall mounted fountain is a great way to dress up that part of your backyard.  Again, this may become the focal point around which you design the rest of your outdoor living area.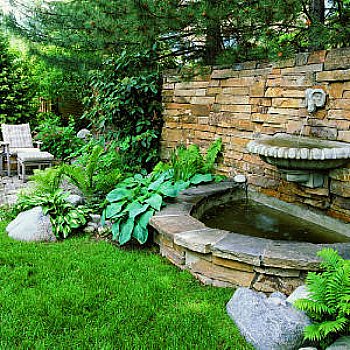 Care and Maintenence
Backyard water fountains don't require a lot of maintenance, but they do need a little care.  The most important thing is to keep leaves, twigs and other debris cleaned out of them.  You will want to flush out the pump occasionally, but that isn't usually a major job.  If the water becomes dirty, you will want to drain and refill the fountain.  Most of the maintenance is just common sense stuff regarding keeping the fountain clean.  Obviously there is very little work required for a tabletop fountain, while a large garden fountain will require more work.  But don't let fear of high maintenance worry you.   A little routine effort pays off in a big way.

One area of concern is more significant - freezing temperatures.  The best protection for your fountain during periods of freezing weather is to take it inside.  If that isn't possible, placing it under a covered area outside will help.  If the fountain can't be moved there are other things you should do to protect it from extreme cold.  At a minimum you should disconnect the pump and store it in a non-freezing area, and drain all water lines left outside.  It's best to bring all water lines, drain lines, and any components that might contain water inside if possible.  Cover the dry fountain with plastic to prevent water from getting into areas where it might freeze and break the fountain components.  This is less critical with a fiberglass backyard water fountain, but freezing water can still damage it.  If you have a cement or cast stone concrete fountain it is imperative that you protect it from freezing water.  Concrete is a porous material that will absorb and hold water.  When that water freezes it expands and causes cracks or crumbling in the fountain material.  With this minimal care and preventative maintenance, you will get many years of enjoyment from your backyard water fountain.
And while we're on the topic of materials for your backyard water fountain - keep these factors in mind.  Fiberglass is an excellent choice.  It is low maintenance and less prone to the damaging effects of freezing or extreme heat.  It is very durable and will serve you well.  Just be sure your fountain is made of fiberglass and not resin or plastic since these materials are not nearly as durable.  The other common material is cast stone concrete.  This is another excellent material, but be sure the cast concrete is well made. A cheaper less well made concrete will have air pockets which invite water to accumulate.  When that water freezes it causes the concrete to crack and / or crumble.  So be sure to buy from a reputable source with a reputation for quality.
A final word about site selection.  Remember that you will need electricity to power the pump, so be sure to select a place where you already have access to electricity or a place where you can run electrical power reasonably easily.  You may want to add some outdoor lighting near the fountain so keep that in mind while planning for electricity.  Underground conduit, wiring, and trenching don't come cheaply.  Of course you will need water, but that can usually be accomplished with a hose.  Be aware, however, that some custom fountains require a direct water source.
Like Always - Plan Carefully
Take the time to plan out your backyard water fountain and you will have a great addition to you backyard that will give you years of enjoyment.  Select the best site, choose the proper fountain size, style and materials, and consider the lighting and landscaping needs.  As with every part of your backyard design, make sure it fits well with the rest of your design.  And enjoy!

---
Go to Backyard Ponds
---
---
Go to Outdoor FireplacesGo to Koi ponds
---
---
---
---
---
---
---
---
Go Home from Backyard Water Fountains
---
Backyard Design Ideas - Proudly serving the Lake Norman area of Central North Carolina including the following towns and counties; Mooresville, Troutman, Charlotte, Statesville, Mt. Ulla, Mt. Mourne, Davidson, Huntersville, Denver, Iredell County, Mecklenburg County, Lincoln County, Cabarrus County, Catawba County, Rowan County. Call us today for a free estimate. 980-722-7370.