Add Simple Seating Areas with Attractive Deck Benches
Deck benches are the simplest, most economical way to add seating capability to your deck.  Well, I guess there is one simpler, more economical way.  You could have all your guests sit down directly on the deck!  But if you want your friends and family to come back to your deck, I'd suggest the benches.  They are inexpensive and easy to build, and can be added on to an existing deck.  Benches add a great deal of seating capacity with little relative expense.  Individual chairs will cost much more and provide far fewer seats.  Chances are, you will not want benches to be your sole seating option, but instead a supplement to chairs. More information on additional outdoor furniture is available on another site page. Essentially, benches are divided into three categories.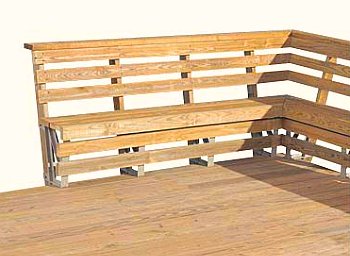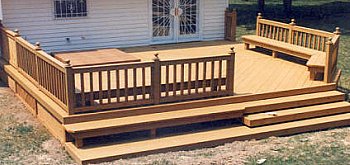 Deck Benches Built Into the Railing
These benches are designed to be part of the deck railing system.  They are built as the railing is built and the finished product must meet all local code requirements for railing.  There are several methods to integrate a bench into your railing system.  One of them is to use ready made brackets (shown) fabricated just for that purpose.  This makes for simple clean lines and a sturdy structure that will hold up for years.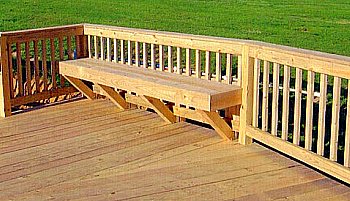 Benches Built in Front of Existing Railing
If your deck railing is already built, you can still add benches in front of it.  These can be free standing benches, but I recommend attaching them to the railing for added sturdiness.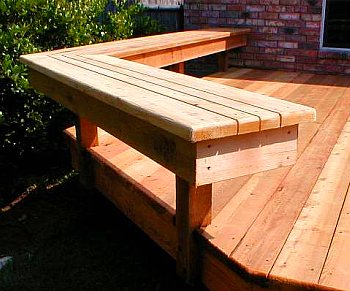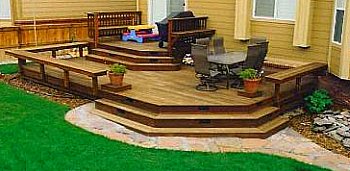 Benches Where No Railing is Needed
If your deck is low enough to the ground, and you don't need railing, you can use deck benches as an edge to your deck.  They help define the area as well as providing seating.  Often a low deck with no railing needs something to give it a degree of character - to help make it look less like just a flat platform.  Benches are perfect in this application.  You don't have to surround the entire deck with benches.  Leave some open space too.  Gain seating - and make your deck look great at the same time!
Get creative with your deck benches.  Add built in planters and tables to increase interest as well as function.  If your fortunate enough to have a tree through your deck - build a bench around it.
---
Go to Cable Deck Railing
---
---
---
---
---
---
---
---
---
---
---
Backyard Design Ideas - Proudly serving the Lake Norman area of Central North Carolina including the following towns and counties; Mooresville, Troutman, Charlotte, Statesville, Mt. Ulla, Mt. Mourne, Davidson, Huntersville, Denver, Iredell County, Mecklenburg County, Lincoln County, Cabarrus County, Catawba County, Rowan County. Call us today for a free estimate. 980-722-7370.
---