Paint Your Backyard With Outdoor Lighting!
Tremendous Bang for Your Bucks!
The effective use of outdoor lighting can have one of the most dramatic and least expensive impacts on your overall backyard design.  Note that I said effective use.  All landscape lighting ideas, equipment and techniques are not equal.  Your lighting plan should be subtle - it should accent, not overwhelm.  There are qualified professionals who can quickly help you with your particular needs.  But, if you have the time, some very basic skills, and just a bit of creativity, you can create your own lighting design with great results.  You may just have to try things and see how they look, then make adjustments until you get the look you want.  The pros have done it many times, so they eliminate most of the trial and error part.  You may need a couple of weeks to tweak things just right, while they can do it in a day.  That part is up to you, your time and your budget.
Outdoor lighting is useful AND aesthetically pleasing
Outdoor lighting is both functional and beautiful.  You can enhance the appearance of your backyard design while creating a safer place as well.  Obviously, walking at night along a peaceful, beautiful, and lighted flagstone pathway is much better than tripping over a clump of monkey grass in the darkness and ending up in the koi pond.  The fish will thank you if you invest in some outdoor lighting!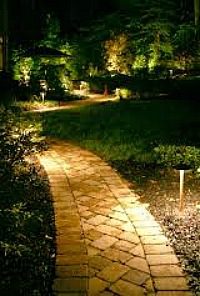 What type of lighting do you need?
As you plan your design, you will need to consider several things.  What do you want to light up?  A pathway?  A deck?  Your landscaping?  An outdoor kitchen?  All of these require different lighting styles. Where will you get the power for your design?  Solar power?  Low voltage?  Gas powered lighting?  How much light will you need?  Will it interfere with the ambiance of your outdoor living area?  Is security an issue related to your lighting?  Are there water features involved with your outdoor lighting design?  If so, more specialty lighting is required, maybe even underwater lighting.
So Now What Do I Do?
The links on this page will take you to discussions of these and other related outdoor lighting issues.  Somewhere along the line you will need to sketch a rough drawing of your backyard and all the features it contains.  (obviously this can be the front yard as well)  Measure those features and make the drawing reasonably close to scale.  Graph paper is perfect for that.  Each block can represent 2 feet, four feet, whatever it takes to fit onto a page.  That drawing will be extremely helpful as you determine how many of each lighting style you will need.  
To keep the size manageable, I usually use separate pages for front and back yards.  It doesn't have to be pretty, nor does it have to be exact - rounding is fine.  But it should give you an overall shape and dimension to help with spacing and style.  While a deck, patio, outdoor kitchen or other prominent feature should be included on the overall design drawing, it is usually best to also do a separate drawing with a larger scale for these individual components.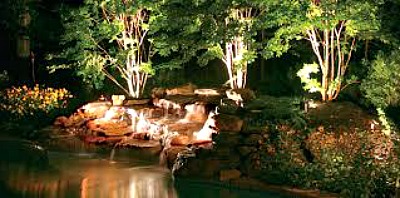 Be Flexible - But Stay On Track
Remember that your overall design will likely incorporate several different styles of lighting into one complementary design.  You can illuminate your home facade, your landscaping, a pathway...and many other potential pieces.  But when you are finished, the design should all come together to enhance, not to overpower.
And remember - there is nothing wrong with the darkness.  It also has a beauty all to itself.
You are invited to visit exterior home improvement ideas with information on outdoor lighting, decks and more.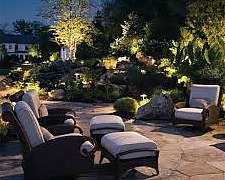 ---
Go to Low Voltage Lighting
---
---
---
---
---
---
---
---
---
---
Go to Backyard Water Fountains
---
---
---
---
Backyard Design Ideas - Proudly serving the Lake Norman area of Central North Carolina including the following towns and counties; Mooresville, Troutman, Charlotte, Statesville, Mt. Ulla, Mt. Mourne, Davidson, Huntersville, Denver, Iredell County, Mecklenburg County, Lincoln County, Cabarrus County, Catawba County, Rowan County. Call us today for a free estimate. 980-722-7370.
---