Add a Deck Post Cap for an Elegant Finishing Touch
Who Needs a Deck Post Cap?
Why do you need a deck post cap?
After all the decisions about your deck have been made, from the size, the deck materials, the deck stair design, the deck railing design, and more - you'd think you were finished.  But there's still more decisions to make.  To really finish off your deck, add a deck post cap to each of your posts.  Take an ordinary deck post and turn it into a work of art.  Okay, that may be pushing it a bit, but it really does add a classy finishing touch to any deck.  Post caps also serve another important function by protecting the open end grain of your deck posts.  The end of the post is where water tends to be absorbed, resulting in splitting and cracking.  That's also the area where insects are most likely to bore holes.  So you will be prolonging the life of your deck as well as making it more beautiful.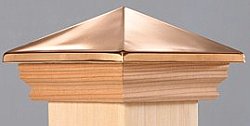 Post Cap Styles
Post caps are available in a large variety of styles.  From simple and basic to ornate - even some with tiffany style glass!  The choice of materials is also extensive.  Wood, stainless steel, glass, copper, aluminum, vinyl...the list of options continues.  Take a look at your house and decide which style will compliment your existing look - or start a new theme beginning with post caps.  Some deck post caps are designed to accept a finial on top.  A finial is a small decorative piece that attaches on top of the post cap.  They have been used for centuries as architectural ornamentation on building, gates, fences, and now deck posts.  They can be as simple as a round ball, or they can be very intricate and ornate. If you use a finial try to match it to another feature on your house if possible.  For a clean simple look, leave the finial off and use a basic flat post cap.  Either way is fine - it's up to you and the look you are after.
There are post caps that contain lights for you deck as well.  The light isn't bright so they are typically used as accent lighting rather than for illumination.  They can add a lot of night time appeal to you outdoor living area.  Obviously, they require a power source.  Models are available with solar power or low voltage power.  The solar option is much simpler because there is no wiring required.  Solar lighting is usually not very bright, which makes it perfect in this application.  If you choose low voltage post caps keep in mind that you will have to hide the wires and that you will need a 120 volt power source as well as a transformer.  Unless you have a strong need for low voltage lighting, use the solar models - much simpler!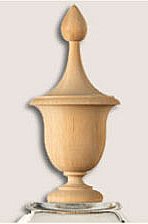 Little Things Make a BIG Difference
Post caps are a fairly inexpensive deck option that can make a dramatic difference.  They are durable and easy to install.  Most of then just slip over the top end of your deck posts and can be secured with nails, screws, or glue.  Most are available in either 4 x 4 or 6 x 6 sizes.
For a real finishing touch consider adding a deck post skirt.  Dress up the bottom of your post to match the top.  Regardless of the style - customize and personalize your deck.  And enjoy!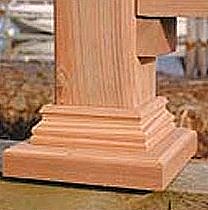 ---
Go to Deck Railing
---
---
---
---
---
Go to Outdoor KitchensGo to Decks
---
Backyard Design Ideas - Proudly serving the Lake Norman area of Central North Carolina including the following towns and counties; Mooresville, Troutman, Charlotte, Statesville, Mt. Ulla, Mt. Mourne, Davidson, Huntersville, Denver, Iredell County, Mecklenburg County, Lincoln County, Cabarrus County, Catawba County, Rowan County. Call us today for a free estimate. 980-722-7370.
---