Choose a Backyard Water Feature to Add Beauty and Interest to Your Backyard Design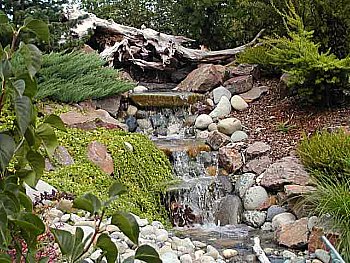 Backyard Water Features 
You can create your own backyard oasis with the addition of a backyard water feature.  The soothing sights and sounds associated with water make a relaxing atmosphere that all will enjoy.  Similar to backyard fire features, water is a natural element that draws people to it and relaxes them.  Bring more wildlife into your yard with a water feature.  You can choose from a number of backyard water features, from simple to elaborate, from a small birdbath to a combination of features that encompass your entire outdoor living area.
Backyard Fountains
Backyard fountains range from simple to extravagant, small to expansive, and the costs reflect that range.  There are simple table top electric fountains that can create a focal point for a dining or conversation area.  Then there are large and elaborate multi tiered fountains than can become the dominate feature of your overall backyard design.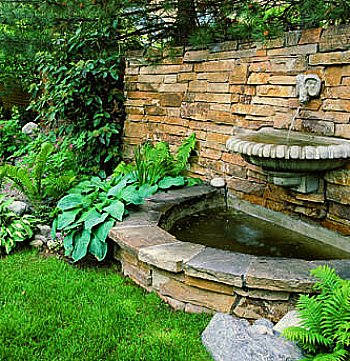 Water Walls
A water wall (also called a bubble wall) is a different sort of backyard water feature.  It is essentially a fountain in a different shape.  They are usually self contained and can be moved around (although the larger ones will require some work).  Water flows down the wall and over various obstructions creating a gurgling cascade.  After collecting in a pool at the bottom the water is pumped back to the top for another trip down the wall.  Some of these are smaller self-contained features designed for use where space is limited.  Consider these if you don't have the space or the budget for a larger water feature.
Backyard Ponds
Backyard ponds are also offered in a wide range of configurations.  A small PVC preformed pond may be all you need for your backyard.  Or you may want a free formed style with a custom liner.  You may want fish, or maybe a water garden is more to your liking.  Maybe both!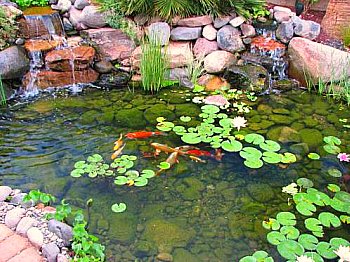 Backyard Waterfalls
Backyard waterfalls are always highlights of any backyard design.  Many feed into a pond, but some are know as pondless and are essentially self contained waterfalls.  Others can be designed to fall over rocks and ledges which are arranged however you want them.  They can be one or two feet high or ten feet tall with multiple levels.  Streams can be designed to tie features together.  A stream is an interesting feature in itself.  When your waterfall is connected to your pond via a stream, the whole backyard turns into an interesting adventure.
Bird Baths
Maybe you don't want or need anything elaborate in the way of a backyard water feature.  A simple birdbath may be all you want.  But that may be all you need.  Attracting birds to your yard and watching them can be a rewarding and relaxing activity in itself.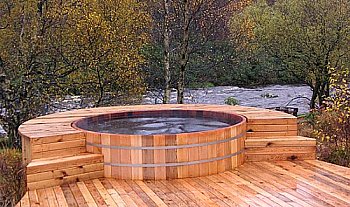 Hot Tubs
These last two backyard water features are different from the rest.  You don't just look and listen - you jump in!   Hot tubs are great for relaxation, relieving stress, or just hanging out.  When carefully located and properly landscaped, they can blend in well with the rest of your backyard design ideas.  A spa also has therapeutic uses that can help with certain physical ailments.
Swimming Pools
A swimming pool is usually the dominant feature of any backyard, simply because of its size.  But the pool doesn't have to overwhelm the backyard.  Again, with careful planning, a swimming pool can blend in nicely with the rest of the features in your backyard.  Combine a waterfall that feeds into the pool to create an interesting and natural looking combination.  Outdoor lighting can turn a pool into a stunning night time display.  Of course, the pool will frequently be the center of attention in the yard - a gathering place for family and friends, a great way to exercise, and a beautiful addition to the overall design.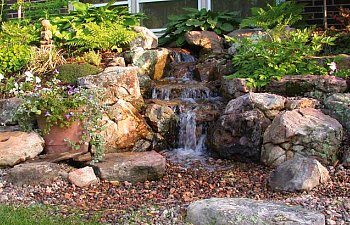 The Choice is Yours
The range of possibilities is almost limitless when you consider backyard water features.  From a bird bath to a waterfall fed swimming pool with an integrated hot tub - a koi pond with a fountain or a beautiful water garden...the choices are yours.

Consider a combination of backyard water features and a fire feature to really make an interesting and beautiful contrast.
Any feature or a combination of features is sure to add a new level of relaxation to your outdoor living area.
---
Go to Backyard Waterfalls
---
---
---
---
---
---
---
---
Go to Backyard Water Fountains
---
---
Go Home from Backyard Water Feature
---
Backyard Design Ideas - Proudly serving the Lake Norman area of Central North Carolina including the following towns and counties; Mooresville, Troutman, Charlotte, Statesville, Mt. Ulla, Mt. Mourne, Davidson, Huntersville, Denver, Iredell County, Mecklenburg County, Lincoln County, Cabarrus County, Catawba County, Rowan County. Call us today for a free estimate. 980-722-7370.
---