An Outdoor Fireplace Makes Your Backyard Usable All Year Long
With the addition of an outdoor fireplace you can bring the warm inviting ambiance of a roaring fire to your backyard.  Don't let cool weather keep you from using your outdoor living space.  Start a fire, pour a cup of hot cocoa, and enjoy the stars.  There is a huge variety of styles, sizes, and prices.
Before You Buy an Outdoor Fireplace

Before you even begin to make any decisions regarding your outdoor fireplace (or any outdoor fire feature), you have some homework.  Check with your local building code enforcement office and ask about regulations concerning outdoor fireplaces.  Also find out if there are any municipal ordinances regulating outdoor fireplaces OR fires.  There are some areas where burning wood outside is restricted.  If that is the case where you live, make sure gas fires are allowable.

Where Should You Place It?
Some of these outdoor fireplaces are big. Very big.  So locating it can be a challenge and is something to carefully consider.  A big fireplace is not easy to move, so get it right the first time.  The first thing to do is to find a suitable space that's big enough to accommodate the fireplace.  That isn't as easy as it might sound.  It's hard for most folks to visualize something that big and how it will impact the overall area.  There are several ways to help you put the size in perspective.  A great way to see the "footprint" of the fireplace you are considering is to build a cardboard template.  Just flatten some boxes and tape them together in the size needed.  This may seem like a lot of trouble, but you're about to spend a substantial amount of money on a fixture that will have a dramatic impact on your backyard design.  It's much smarter to spend some time and effort up front than to buy something that won't fit where you need it.  By the way, if your backyard is fenced, make sure the fireplace will fit through your gate.  If not, you may need to remove a section.  If you don't want to build a cardboard template, you can substitute a string outline.  Just hold the string (or a rope, chain, even a garden hose) in place at the corners with a small weight.  (a rock will do nicely)  This will work, but you can't easily move it around and try different locations like you can with a template.  Before you settle on a size and location - look up!  You need not only ground clearance, but vertical clearance as well.  You need clearance for the actual structure, and for the extreme heat of the gases coming out of the chimney.  A nearby tree branch can easily become scorched and could become a serious fire safety hazard.  Be careful with your placement.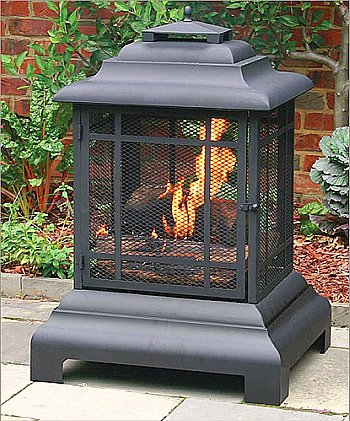 Wood or Gas?
Assuming you have checked your local regulations and have determined that wood is an acceptable fuel, you will need to determine whether a traditional wood burning fireplace or an outdoor gas fireplace is best for you.  Wood corners the market when it comes to character and ambiance.  The sounds and smells of a wood fire can neither be matched nor duplicated.  On the other hand, for ease of use, the instant fire of a gas fireplace is the winner, hands down.  The pros and cons of each are discussed more in depth in fire features.
Fireplace Orientation
Another consideration before finalizing your decision - which way will the heat go?  If you are using a fire pit or a table style fire pit the heat will radiate out in all directions.  Several people can easily gather around the fire in a circular fashion.  With a traditional style backyard fireplace the heat is radiated out in a cone shape.  So the area of effective heating is less than half of the area of an open pit.  Be sure you have room to adjust your seating closer to or farther from the fire.  Don't make the mistake of placing a large outdoor fireplace on a patio that doesn't provide enough space to move around into a comfort zone relative to the heat.  A beautiful backyard fireplace with a roaring fire doesn't do much good if everybody has to stand in the middle of the yard.
Finally, consider the view from your home, from your deck, from wherever you may have a nice view.  Does your huge stone fireplace block that view?  Should you consider a different location?  Should you consider a different fireplace?
If you'll carefully consider these ideas, you can select the perfect outdoor fireplace for your backyard.  Fire it up!
---
Go to Fire Features
---
---
---
---
---
---
Go to Backyard Water Fountains
---
---
---
---
---
---
---
Go Home from Outdoor Fireplaces
---
Backyard Design Ideas - Proudly serving the Lake Norman area of Central North Carolina including the following towns and counties; Mooresville, Troutman, Charlotte, Statesville, Mt. Ulla, Mt. Mourne, Davidson, Huntersville, Denver, Iredell County, Mecklenburg County, Lincoln County, Cabarrus County, Catawba County, Rowan County. Call us today for a free estimate. 980-722-7370.
---