A Hot Tub can Be a Great Addition to Any Backyard!
Relax.  Hot Tub Style!
Adding a hot tub to your backyard can be a great way to improve your overall design.  You can add years of enjoyment to your outdoor living space with the addition of an outdoor spa.  But there are some things to consider before making that decision.  Where will it go?  What other things will have to be added to support the hot tub?  How will it affect the rest of your backyard design?  If you don't take the time to think through the process carefully, your dream could turn into a nightmare!
The key to this process is to make a careful evaluation of all the things you will need to consider, then decide on a particular hot tub.  Too many people purchase the hot tub first, and then discover that they should have made a different choice.  Invest the time and energy to do your homework - then pick the right spa for your site and your needs.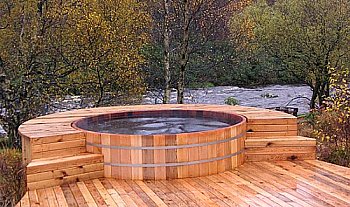 Choosing a Site
There are a number of things to think about as you decide where to put your backyard spa.  The location should blend with the rest of your overall backyard design plans, including those to come later.  Don't choose a location that will look odd or out of place.  The objective is to let the hot tub blend into the rest of your backyard design ideas, and to complement them.  Think about how you plan to use it.  Will it be a place for family fun with the kids?  Or will your spa be adults only?  If you plan a therapeutic value, are you going to be able to get to and from the spa easily and safely?  Are there social / entertainment considerations?  Will you have friends over to relax and enjoy the water?

Thinking about how you will use your spa will help you decide where to put it.  If you need to be able to keep an eye on the kids through the kitchen window, locate your tub closer to the house.  If privacy is a consideration (and it usually is) choose a location that is shielded from neighbors.  Some natural privacy is usually available but often there is the need for more.  How will you satisfy the need for additional privacy?  Do you have a view from your backyard that you would like to maximize?  If you want to watch the sunset from your hot tub, don't put it in a place without a westward view.  Which way does the wind usually blow and do you need to be shielded from it?  Consider the sun and where the shady areas of your backyard are.  Depending on your climate and your preferences, you may want either a sunny or a shady location.  How close to your house do you want the hot tub to be?  If you choose a location further from the house, how much trouble will it be to get back and forth?  Some of these considerations can be affected by things you do later, but consider them all and utilize what you have already existing to your advantage.
Site Foundation
Now, once you've thought about all of those considerations, your ideal location may not work at all!  In addition to the above considerations you must have a suitable site that can actually accommodate the hot tub.  First, the area must be relatively level and flat.  Of course you can do some grading to level an area, but you don't want to have to totally reshape your yard unless you must.  The area must be firm as well.  A mushy low lying area may not support the weight of the hot tub.  Is there an existing patio or deck you plan to use?  Patios are usually fine as far as support goes, but is that really where you want your spa?  If you use the patio for cookouts and other outdoor activities, do you really want a hot tub there?  Just because it can go there doesn't mean it should go there.  Again, consider your overall design before finalizing the placement.  If you plan to put the hot tub on an existing deck, you will probably need to make some structural modifications to accommodate the weight of the tub.  Decks are not usually designed to support that much weight in one spot.  If you are building a new deck that will support the spa, be sure your contractor is building it with that in mind.

If you are locating you spa in an otherwise unused part of your yard you will probably need to make some preparations before installing it.  A concrete pad is probably the best method of support for your tub.  Fortunately, concrete isn't that expensive, and it could even be something you could do yourself.  Now - you've gone through all these mental gymnastics and thought through all the considerations.  So you're finished with this part and you're ready to go pick out your new hot tub!  Right? ... Wrong!
What About Utilities?
Unless you want your hot tub to be a cold tub, you will need electricity.  Most spas require a 240 volt electrical connection, so even if you locate your tub next to the house you may still have to make some electrical modifications.  Your electrician will be happy to run electricity to the far side of your backyard, but it will not be cheap.  The wire and conduit are expensive and digging a trench doesn't usually come cheap either.  You may want to get a per foot quote before you make a final decision about location if the distance from your house is significant.  While we're discussing electrical requirements - will you need any additional lighting?  Any receptacles nearby for miscellaneous use?  How about music from your home stereo?  Just think through and make sure you don't need to call the electrician back to do something that could have been done the first time.  Oh yeah, one other thing.  You will need some water.  That doesn't mean you need to dig a well, just be sure you can get a hose to the tub without too much trouble.

Finally.  You're ready to go pick the tub and start enjoying it.  Maybe, but take a few more minutes to consider everything again.  Will you be able to take advantage of natural or existing features?  Be sure there will be no limbs over your chosen location.  Leaves, bark and sap are not welcome additions to your water.  And of course, backyard birds like to sit on backyard limbs and they also like to...well, just be sure no limbs are over your tub!  There are attractive ways to create or enhance privacy if needed.  A lattice panel with a flowering vine can be a beautiful addition to your overall backyard design.  Nobody has to know it's really a privacy screen.  Wise use of landscaping can serve multiple purposes as well.  A pergola, an arbor, even a gazebo can provide a solution for your particular application.
There are multiple options for surrounding your new hot tub - meaning the actual walls of the tub itself.  Most models come with a standard surround, but there are usually customizable options available, such as stone.  Of course you can always have a custom made surround installed after the spa is in place, but you may find what you want as an option from your dealer at a better price.  Just keep in mind how the surround material will work with the rest of the features in your backyard. Now go have fun!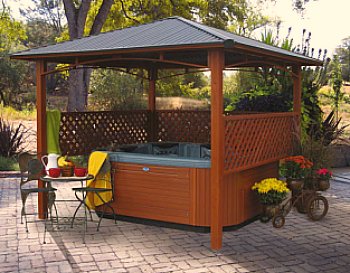 ---
Go to Outdoor Fireplaces
---
---
---
---
---
---
---
---
---
---
---
---
---
---
---
Go to Backyard Water Fountains
---
---
---
---
---
---
---
Backyard Design Ideas - Proudly serving the Lake Norman area of Central North Carolina including the following towns and counties; Mooresville, Troutman, Charlotte, Statesville, Mt. Ulla, Mt. Mourne, Davidson, Huntersville, Denver, Iredell County, Mecklenburg County, Lincoln County, Cabarrus County, Catawba County, Rowan County. Call us today for a free estimate. 980-722-7370.
---