Outdoor Furniture Makes Your Deck or Patio Beautiful and Functional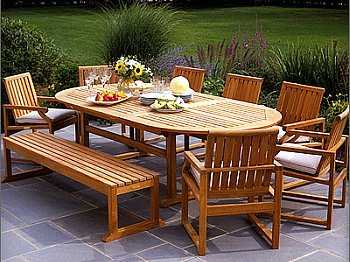 Beautiful or Practical?  How About Both?
The right choices regarding outdoor furniture are critical as you seek to make it usable.  Once you have your outdoor living area designed and built, this is the next step.  Will you be relaxing in the sun? Entertaining guests?  Or just hanging out with family and friends?  Do you prefer traditional or contemporary styles?  However you will be using your area, you must have furniture to complement the design as well as to provide functionality.  Think out the various activities you envision for your outdoor area decide which pieces will be important to you.
Outdoor Furniture Options
How Will You Use It?
Just like at indoor gatherings, folks tend to stand and walk around when large groups gather outside.  Smaller, more intimate gatherings lend themselves more readily to longer sit down conversations.  So maybe you won't need a great deal of seating capacity, but what you do have should be inviting and comfortable.
How large will your gatherings typically be?  Is it likely that all of your guests will want to sit down at the same time?  Large seating areas can be provided efficiently with deck benches.
Teak deck chairs are an attractive and durable option for outdoor seating.  Their classic good looks and sturdy construction will enhance your outdoor living area for decades.
If you will primarily use your outdoor living area with family, you may want to include loungers as part of your furniture selections.  They are great for sunbathing, reading, or just catching a nap in the fresh air.  Unless you have natural shade or covered areas, you will need patio umbrellas to provide relief from the direct sun.
If your backyard design includes a cooking area, you will need someoutdoor kitchen furniture.  This could be a patio table and chairs, bar chairs for a raised bar, small tables...the list goes on.  If you really want to keep everyone outside no matter what is going on, an outdoor TV may be just what you need.  No matter how you plan to use your backyard, the right outdoor furniture can make all the difference.
What material will be best for your furniture?  You can choose from teak, aluminum, plastic, wrought iron, even concrete.
For additional ideas for your backyard design visit my friends at Yardsurfer. Tell 'em I sent ya.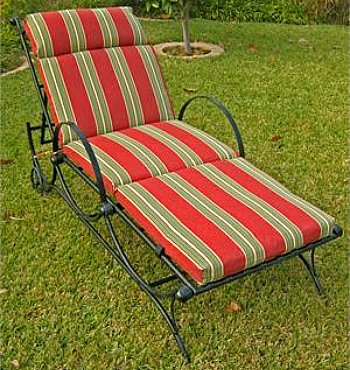 ---
Go to Teak Deck Furniture
---
---
---
---
---
---
---
---
Go to Backyard Water Fountains
---
---
---
---
---
Go to Patio Furniture Cushions
---
---
---
---
---
Go to Covered Outdoor Kitchens
---
---
---
---
---
Go to Home from Outdoor Furniture
---
Backyard Design Ideas - Proudly serving the Lake Norman area of Central North Carolina including the following towns and counties; Mooresville, Troutman, Charlotte, Statesville, Mt. Ulla, Mt. Mourne, Davidson, Huntersville, Denver, Iredell County, Mecklenburg County, Lincoln County, Cabarrus County, Catawba County, Rowan County. Call us today for a free estimate. 980-722-7370.
---